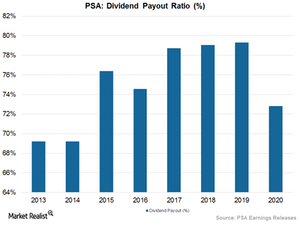 Public Storage: A Rewarding Stock for Shareholders
By Jennifer Mathews

Jun. 27 2017, Updated 7:36 a.m. ET
Why dividends matter
In order to function as REITs, self-storage companies have to pay at least 90% of their taxable incomes as rewards to their shareholders in the form of dividends or share repurchases.
The fulfillment of this requirement enables REITs to enjoy several tax benefits that other corporates don't.
REITs fund their shareholders' returns through their rental incomes, making them a lucrative form of investment that provides a predictable flow of income for investors.
Article continues below advertisement
Consistent dividend payment
Public Storage (PSA) has regularly rewarded its shareholders in the form of quarterly dividends. The company has paid a dividend in every quarter since 1981, its first full year of operation. During 2016, PSA paid $1.70 per share in 1Q16, $1.80 per share in 2Q16 and 3Q16, and $2.00 per share in 4Q16.
Public Storage has been able to maintain a consistent dividend yield over the last two years. The company's dividend yield was 2.6% in 2015 and 3.3% in 2016. Analysts expect PSA to maintain dividend yields of 3.8%, 4.0%, and 4.3%, respectively, in 2017, 2018, and 2019.
FFO payout ratio
The FFO (funds from operation) payout ratio is the ratio between a company's dividend distributed per share and its diluted FFO per share for a given period. It gives us an idea of a company's shareholder returns as well as the amount of FFO it's paid out as dividends.
PSA's FFO payout ratio was 79% in 1Q17. The company's expected payout ratios are 76%, 74%, 82%, and 78%, respectively, for 2Q17, 3Q17, 4Q17, and 1Q18. The chart above shows the company's estimated dividend payout trend for the next four years.
PSA's board has authorized a repurchase of 35 million shares in the open market. The company had bought back 23.7 million shares worth $679.1 million as of February 28, 2017.
Peer group
If we consider other REITs by comparing FFO payout ratios, we'll find that PSA's payout ratio is in line with its peers'. Life Storage (LSI) has an FFO payout ratio of 71%, Macerich Company (MAC) has an FFO payout ratio of 68%, and Extra Space Storage (EXR) has an FFO payout ratio of 76%. Public Storage and Extra Space Storage make up almost 9% of the iShares Cohen & Steers REIT ETF (ICF). ICF has a dividend yield of 3.9%.
In the next article, we'll find out how PSA is performing in terms of leveraging its debt.