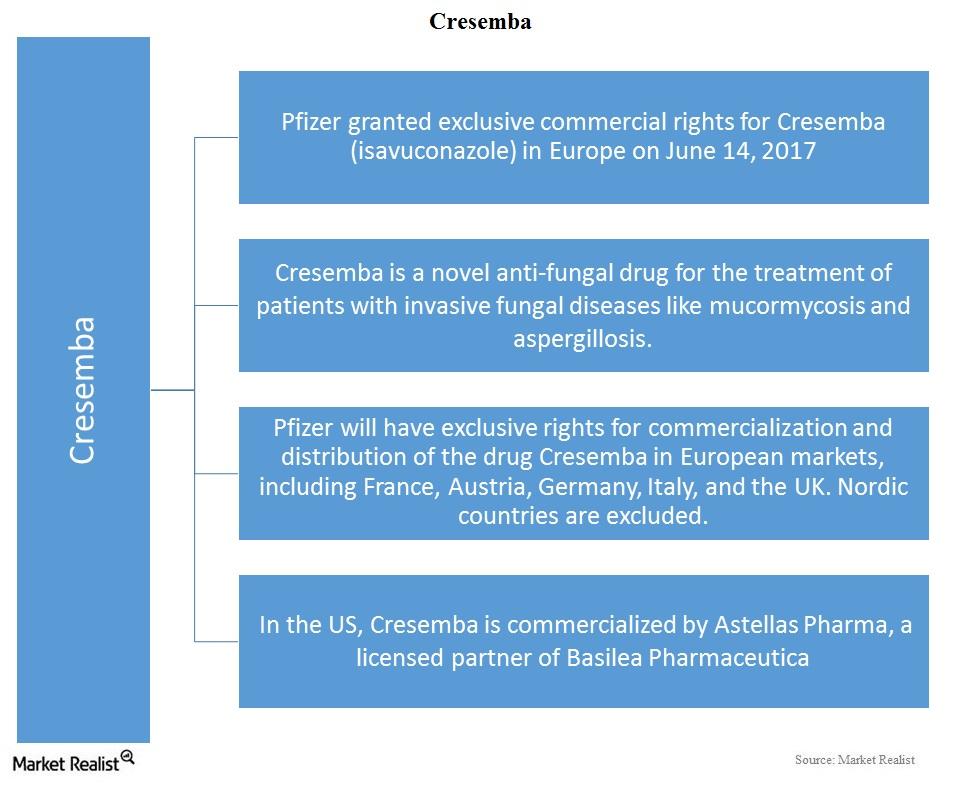 Pfizer Has Received Commercial Rights for Cresemba in Europe
By Mike Benson

Nov. 20 2020, Updated 11:15 a.m. ET
Cresemba
On June 14, 2017, Pfizer (PFE) announced an agreement with Basilea Pharmaceutica (BSLN) in which Pfizer is granted exclusive commercial rights for Cresemba (isavuconazole) in Europe. Basilea Pharmaceutica is an international biopharmaceutical company focused on the research and development of anti-infective and oncology drugs.
Article continues below advertisement
About Cresemba
Cresemba is a novel anti-fungal drug for the treatment of patients with invasive fungal diseases such as mucormycosis and aspergillosis. These are both serious infections related to high morbidity and mortality in immunocompromised patients, including patients with HIV (human immunodeficiency virus) infections or cancer.
According to Pfizer's press release on June 19, 2017, the mortality rate due to invasive fungal infections, which can be 80.0%–90.0%, depends on various factors such as pathogens, geographic locations, and characteristics of the patient infected. Approximate figures for deaths in the European region caused by mucormycosis are ~3,000 deaths per year and by aspergillosis are ~70,000 deaths per year.
Details of the agreement
As we saw in a previous part of this series, Pfizer and Basilea Pharmaceutica entered into an agreement on June 14, 2017, in which Pfizer will have exclusive rights for commercialization and distribution of Cresemba in the European markets, including France, Austria, Germany, Italy, and the United Kingdom, where the drug is presently available. However, these rights don't include commercialization rights for Nordic countries such as Denmark, Norway, Finland, Sweden, and Iceland.
The marketing authorization received from the European Commission will remain with Basilea Pharmaceutica, but Pfizer will be responsible for the additional Cresemba launches in the above European markets in 2017 and 2018.
For the US markets, Cresemba is commercialized by Astellas Pharma, a licensed partner of Basilea Pharmaceutica. Pfizer doesn't have any commercialization rights for Cresemba in the US markets.
To invest in Pfizer and divest the risk, you can consider the iShares US Healthcare (IYH), which holds 6.8% of its total assets in Pfizer. IYH also holds 6.2% in Merck & Co. (MRK), 3.0% in Gilead Sciences (GILD), and 3.2% in Allergan (AGN).