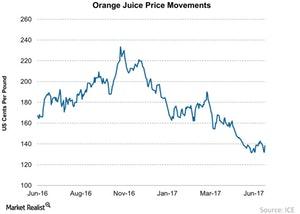 How Orange Juice Futures Traded for the Week Ended June 23
By Adam Jones

Jun. 27 2017, Updated 6:43 a.m. ET
Orange juice prices
During the week ended June 23, 2017, orange juice futures, or FCOJ-A near-month futures prices, ended in negative territory week-over-week. FCOJ stands for frozen concentrated orange juice, and the A stands for the grade given by the US Department of Agriculture.
Article continues below advertisement
Weekly movements
For the week ended June 23, the near-month futures for FCOJ-A contracts fell ~3% week-over-week to $1.38 per pound from $1.41 per pound on June 16. On an average, futures for the week ended June 23 closed at $1.35 per pound from the average price of $1.40 per pound in the previous week.
Orange juice prices have been on a downward trend, with current prices standing almost 18% lower than levels observed a year ago.
Forward curve
In the chart above, we can see that orange juice futures from September 2017 to May 2018 were trading at lower levels compared to the near-month futures expiring in July 2017. Usually, this means that prices may rise as we approach those months.
As a result, companies (XLP) such as Dr Pepper Snapple (DPS), Coca-Cola (KO) (COKE), and PepsiCo (PEP) that sell orange juice through their subsidiaries may take advantage in the current scenario.
In the final part of this series, we'll discuss cotton futures and the forward curve.