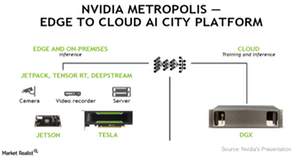 NVIDIA's Artificial Intelligence Metropolis Platform
By Puja Tayal

Updated
NVIDIA's artificial intelligence city solutions
In the previous part of the series, we saw how AI (artificial intelligence) can solve problems in city management. NVIDIA (NVDA) is looking to tap into the AI city opportunity with its end-to-end platform solutions. At the 2017 GPU (graphics processing unit) Technology Conference, NVIDIA showcased its Metropolis edge-to-cloud AI city platform, which uses GPUs in edge devices such as cameras, and in the cloud.
Article continues below advertisement
Metropolis edge-to-cloud AI city platform
At NVIDIA's 2017 Investor Day, Mobile Business general manager Deepu Talla explained how the company used its hardware and software offerings to develop the Metropolis platform. On the hardware side, NVIDIA used Jetson GPUs in devices such as cameras and small recorders to filter video information through AI. This information is then sent to servers, where Tesla GPUs do the more advanced processing. This data is then sent to the cloud, such as Google's (GOOG) or Baidu's (BIDU), where DGX-1 supercomputers do advanced deep-learning processing.
On the software side, the Metropolis platform is built on the same CUDA software upon which NVIDIA's other platforms have been built. The company also built an SDK (software development kit) specifically for intelligent video analytics.
Challenges in building an AI city
While AI can improve the overall efficiency of a city, there are several challenges in its implementation, stated Deepu Talla. NVIDIA is at an early stage of transforming cameras from video recorders to real-time video analytics platforms.
He explained that none of the cameras currently deployed in various cities are AI-enabled, and among the new cameras that will be deployed in 2017 and 2018, very few are AI enabled. He expects less than 5% of the videos streamed on cameras will be AI-enabled in 2018. The transformation will be slow, as there are many verticals and geographies that require special solutions.
AI city opportunities
NVIDIA started working on the proof of its concepts for AI cities in 2016, using AI-enabled servers and some high-end cameras. This work fetched the company ~$10 million in revenue in calendar 2016. It expects to earn revenue of more than $100 million in calendar 2017 from AI city opportunities.
NVIDIA has already partnered with over 50 companies from various segments, such as video surveillance product makers. Opportunities could expand further as more cameras are deployed across different cities, and more data is generated from these cameras. The company expects its total addressable market in AI cities to reach $2 billion by 2020—$1 billion from servers and $1 billion from devices on the edge.