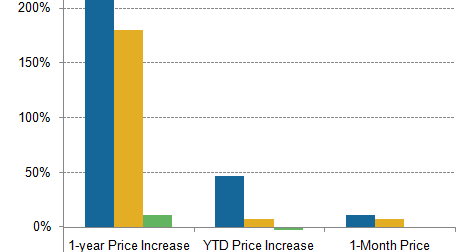 NVIDIA Stock Outperforms the Market
By Puja Tayal

Updated
NVIDIA stock outperforms market
In the previous part of this series, we saw that analysts are bullish on NVIDIA (NVDA) and have also increased their price target on the stock. This high optimism among analysts has also made investors bullish on the stock.
In the past 12 months, NVIDIA stock rose 219% and outperformed the S&P 500 Index (SPY), which rose 16.5% during the same period. The stock also outperformed its peers Advanced Micro Devices (AMD) and Intel (INTC), which rose 180% and 11%, respectively.
Overall, NVIDIA outperformed the market and its peers by a wide margin. This growth came as NVIDIA's efforts in the AI (artificial intelligence) space started to materialize.
Article continues below advertisement
NVIDIA's stock price movement in 2017
Since the start of 2017, NVIDIA's (NVDA) stock price has increased 47%, and AMD's stock price has increased only 7.4%. On the other hand, Intel's stock price fell 2.4% year-to-date as the company's business transition slows its revenue growth for fiscal 2017.
May 2017 was an important month for both NVIDIA and AMD as they held their 2017 Investor Days and released their first quarterly earnings for calendar 2017. This saw NVIDIA's stock price increase 11.4% and AMD's stock price increase 7.5% in May 2017.
Although AMD's future stock price would mostly be driven by its strength in PCs and gaming, NVIDIA's stock price would mostly be driven by its growth in the AI market.
Rumor: SoftBank could become a major shareholder in NVIDIA
NVIDIA's (NVDA) strong growth has attracted institutional investors. A Bloomberg report, citing sources familiar with the matter, stated that Japan's (EWJ) SoftBank had purchased $4 billion in NVIDIA stock, making it the fourth-largest shareholder in the chip company. The May 24, 2017, report stated that SoftBank is likely to have a 4.9% holding in NVIDIA, just below the amount that requires a SEC disclosure.
Several events support this news. SoftBank announced a $93 billion commitment to the Vision Fund, which aims to invest in the technology industry—and future technology in particular. Moreover, SoftBank promised the Trump administration that it would invest 50% of the fund's amount in the United States.
NVIDIA is a US-based technology company focused on future technology trends such as AI and autonomous cars. Moreover, SoftBank disclosed that it has holdings in NVIDIA, but it did not specify the amount.
The growing interest of investors in NVIDIA could help the stock meet or even beat its bullish price target of $185 in the coming 12 months. Next, we'll look at the company's price ratios and discover whether the stock is fundamentally overvalued or undervalued.