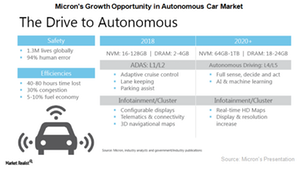 Micron Sees Strong Growth Opportunity in Autonomous Cars
By Puja Tayal

Updated
Memory opportunity in the data-centric technology industry
In this series, we've seen that the DRAM (dynamic random access memory) and NAND markets are currently facing a strong demand environment and tight supply conditions. As the technology industry becomes data-centric, the role of memory is becoming more important.
AI (artificial intelligence), VR (virtual reality), and autonomous cars are driving demand for specialized high-performance memory solutions. That's turning the commoditized memory market into customized memory solutions.
Article continues below advertisement
Micron, a leader in the automotive memory market
At the Bank of America Merrill Lynch 2017 Global Technology Conference, Micron's (MU) chief financial officer Ernest Maddock said that the company is a leader in the automotive memory market with more than a 48.0% share. The second-largest player has a market share of about 20.0%. In this space, Micron provides memory solutions that are a combination of DRAM, NAND, and NOR flash memory.
Micron's key customer, Nvidia (NVDA), is a leader in the autonomous car market and is set to deploy its DRIVE PX 2 AI platform in Tesla's (TSLA) and Toyota's (TM) upcoming cars by the end of 2017. The platform would feature four Pascal GPUs (graphics processing units), and each GPU would be equipped with eight GDDR5 (double data rate type five synchronous graphics random access memory) packages. That would drive Micron's automotive earnings in fiscal 2018.
Micron's opportunity in the autonomous car market
Maddock said that as we move from ADAS (advanced driver-assistance systems) level one and two autonomy to a level five full autonomy, the DRAM and NVM (non-volatile memory) content will increase fourfold. The DRAM content per car would increase from 2.0 GB (gigabytes)–4.0 GB at present to 18.0 GB–24.0 GB by 2020. The NVM content would increase from 16 GB–128.0 GB to 64.0 GB–1.0 TB (terabyte). The memory content would vary depending on the level of autonomy.
Article continues below advertisement
Qualification process in automotive 
Automotive has a stringent qualification process since memory and other components have to function at very high temperatures and have high reliability. As Micron supplies memory to auto subsystem suppliers, it has to undergo their qualification processes. Then the auto subsystem suppliers have to get their products qualified from PC (personal computer) OEMs (original equipment manufacturers) and thus move up the supply chain. The final qualification is given by automakers.
Micron is currently in the process of getting its 3D NAND qualified for cars that will be produced in 2019 and 2020. Due to the lengthy and expensive design cycle, automotive customers are reluctant to change suppliers or technology very often. So design wins in the automotive space would give Micron a stable source of earnings in the long term.