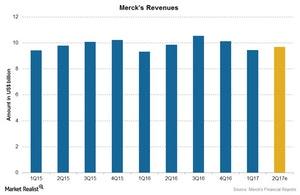 Merck & Co. Reported 1% Growth in Its 1Q17 Revenues
By Mike Benson

Jul. 3 2017, Updated 6:38 a.m. ET
Merck's 1Q17 performance
Merck & Co. (MRK) reported 1% growth to ~$9.4 billion in its 1Q17 revenues, compared to ~$9.3 billion in 1Q16. This trend was driven by 3% operational growth, substantially offset by a 2% negative impact of foreign exchange. Analysts estimates show a 1.7% decline in revenues to ~$9.7 billion in 2Q17.
Merck reported earnings per share (or EPS) of $0.88 for 1Q17, while analysts estimate EPS of $0.87 for 2Q17.
Article continues below advertisement
Revenues
Merck's revenues reported an operational increase of 3% to ~$9.4 billion in 1Q17, driven by Gardasil, Keytruda, Proquad/Varivax, and animal health products.
Profit margins
Merck's gross margin improved to 77.8% during 1Q17, representing 0.8% growth over 1Q16 due to lower COGS[1. cost of goods sold] expenses. The company's net profit margin increased 4.3% to 16.4% during 1Q17 compared to 1Q16.
The profit margins improved following lower inventory write-offs. In addition, the company experienced lower operating expenses, selling expenses, and general and administrative expenses as a percentage of revenues, partially offset by an increase in its R&D[1. research and development] expenses.
For 2Q17, Wall Street analysts estimate Merck's gross margin to reach 76.4%, compared to 63.6% in 2Q16. The company's net profit margin is estimated to reach 25% for 2Q17.
For diversified industry exposure, investors can consider the Fidelity MSCI Healthcare ETF (FHLC), which holds ~5.3% of its total assets in Merck. FHLC also holds 4.6% in Gilead Sciences (GILD), 3.1% in Bristol-Myers Squibb (BMY), and 8.8% in Johnson & Johnson (JNJ).