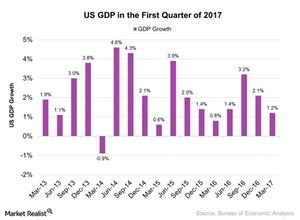 Why Marc Faber Believes US Economic Growth Is Weakening
Marc Faber on US economic growth
In 1Q17, the US economy saw a growth rate of 1.2%, according to the report provided by the US Bureau of Economic Analysis. This figure beat the market (VOO) (IWM) expectation of a 0.9% growth. However, this figure is lower than the 2.1% growth in 4Q16. The slower improvement in economic growth is a major concern for investors.
Article continues below advertisement
Marc Faber on auto sales
Marc Faber focused on US auto sales in the interview, as it is a leading economic indicator that affects investor confidence. Faber said that auto sales are falling in the US (VFINX). Total vehicle sales in the US stood at 16.7 million in May 2017 as compared to 16.9 million in April 2017. Since December 2016, this indicator has fallen gradually.
US retail sales are also showing weaker improvement and haven't met market expectations. US retail sales stood at 0.4% in April 2017 as compared to a 0.1% growth in March. However, the market expected a rise of 0.6% in April 2017.
In April, Larry Fink, CEO of BlackRock (BLK), also said that confidence in the US economy hasn't translated into sales. The weaker auto sales and retail sales are concerning investors.
In regards to auto sales figures, Faber said that consumers might want to purchase, but slower wage growth may be deterring them.
In the next part of this series, we'll analyze why Marc Faber is choosing Europe over the US for investments.