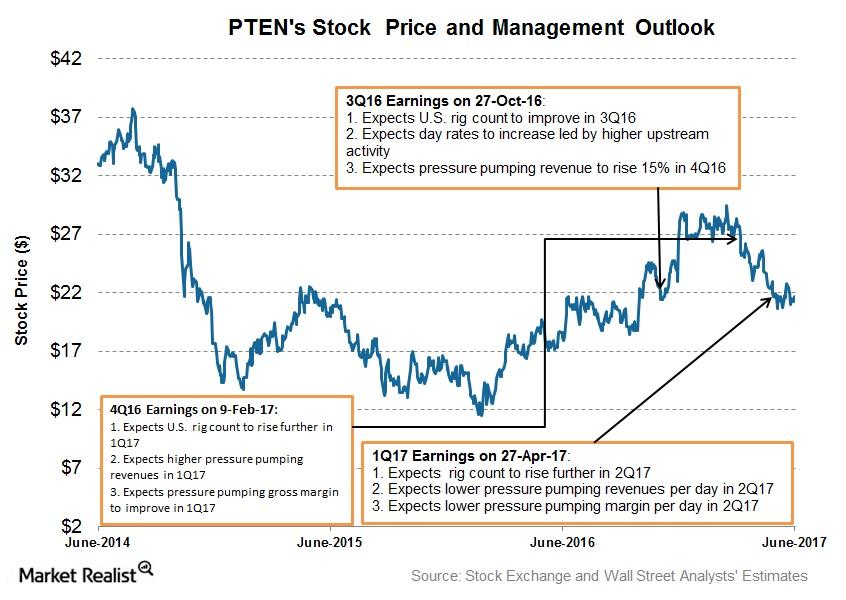 Management's Views on Patterson-UTI Energy after 1Q17
What Patterson-UTI Energy management thinks
On April 20, 2017, Patterson-UTI Energy (PTEN) completed its acquisition of Seventy Seven Energy, which provides contract drilling, pressure pumping, and oilfield rental services to upstream energy companies in the United States. PTEN's management expects the merger to become an important value driver going forward. You can read more about the acquisition in Market Realist's Oilfield Services Deal: PTEN Will Acquire Seventy Seven Energy. Since April 20, 2017, PTEN stock has fallen 7.0% compared to a 2.0% rise in the iShares Core S&P Mid-Cap (IJH). PTEN makes up 0.22% of IJH.
Article continues below advertisement
Mark Steven Siegel, PTEN's CEO (chief executive officer), commented in the company's 1Q17 earnings conference call, "Strategically, this merger strengthens our position in both U.S. onshore drilling and pressure pumping. In drilling, with the combined rig fleet of approximately 200 high-spec rigs, this transaction has further solidified our position as a leader in this industry. The Seventy Seven rig fleet is very complementary to our own and the combination of our rig fleets expands our ability to meet the strong demand for super-spec rigs."
What's PTEN's rig count and backlog size?
PTEN's drilling backlog was $385.0 million on March 31, 2017. Management expects ~35.0% of that to remain at the end of 2017. Backlog is defined as day rate under term drilling contracts multiplied by the number of days remaining under the contract.
In 2Q17, management expects PTEN to operate 84 rigs under term contracts, compared to 81 in 1Q17. The company also expects an average of 61 rigs to operate under term contracts during the 12-month period ending March 31, 2018.
What benefits will Seventy Seven Energy's acquisition provide?
The Seventy Seven Energy acquisition is expected to provide the following benefits:
greater efficiency in procuring sand, chemicals, and maintenance spares
increased volumes of sand by rail and truck to wells
new business line addition from Great Plains Oilfield Rental (following Seventy Seven Energy's merger) to leverage PTEN's vast operational footprint and infrastructure
Next, we'll take a look at Patterson-UTI Energy's revenue and earnings.