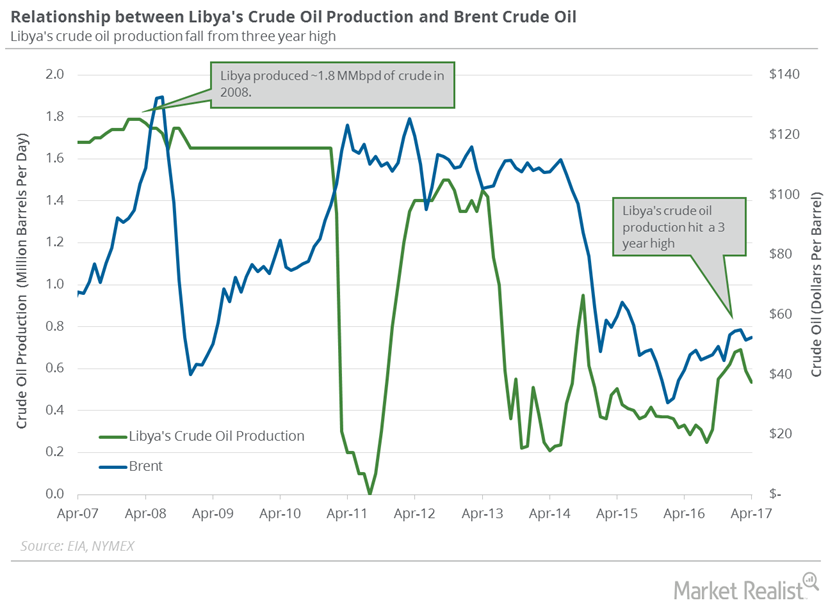 Libya and OPEC Pressure Crude Oil Prices to a 3-Week Low
Crude oil prices  
July WTI (West Texas Intermediate) crude oil (USO) (UCO) (XES) futures contracts trading in NYMEX fell 2.7% and closed at $48.32 per barrel on May 31, 2017. Brent crude oil futures fell 2.9% and closed at $50.31 per barrel on the same day. The S&P 500 (SPY) (SPX-INDEX) and NASDAQ fell 0.05% and 0.08%, respectively, on May 31, 2017.
Crude oil prices are at a three-week low due to the following:
Libya's crude oil production rose above a three-year high in May 2017.
OPEC's crude oil production rose in May 2015—the first production rise in 2017.
US gasoline demand fell in the first three months of 2017—compared to the first three months in 2016.
National Oil Corporation of Libya estimates that Libya's crude oil output rose to 827,000 bpd (barrels per day) in May 2017. It's above the three-year peak of 800,000 bpd hit in early May 2017.
Article continues below advertisement
For more bearish drivers, read Crude Oil Prices Fell and Dragged S&P 500 Down. Crude oil prices fell ~6% after OPEC's meeting. Lower oil prices have a negative impact on oil and gas producers' earnings. Some US oil and gas exploration and production companies like Chesapeake Energy (CHK), Comstock Resources (CRK), and Whiting Petroleum (WLL) fell 10.8%, 19.7%, and 20.5%, respectively, after OPEC's meeting.
Market focuses on US crude oil inventories 
The EIA (U.S. Energy Information Administration) will release its weekly crude oil inventory report on June 1, 2017, at 11:00 AM EST. We'll look at the American Petroleum Institute's estimates for US crude oil and gasoline inventories in Part 3 of this series.
Let's start with US crude oil prices in early morning trade on June 1, 2017. We'll also discuss OPEC's crude oil production in May 2017.