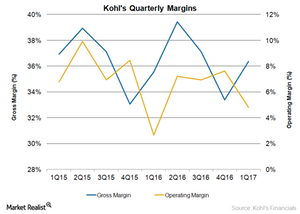 What's Kohl's Doing to Improve Its Margins?
Cost control
Kohl's (KSS) is trying to improve its margins through strong expense management. Cost control becomes even more vital amid the tough retail environment that Kohl's and its department store peers are facing.
Article continues below advertisement
Margins in recent quarter
In fiscal 1Q17, which ended on April 29, 2017, Kohl's gross margin grew by 83 basis points to 36.4%. The improvement, which came despite challenging business conditions, was the result of efficient inventory management and lower levels of seasonal carryover. Inventory per store fell 1.0% in fiscal 1Q17. In fiscal 1Q17, the gross margin also benefitted from improved promotional markdown levels on a year-over-year basis.
Kohl's operating margin rose to 4.8% in fiscal 1Q17 from 2.7% in fiscal 1Q16. The significant improvement was due to the company being able to leverage expenses by two basis points despite a 3.2% decrease in sales. Lower marketing and store expenses helped its operating margin expand. The company's decision to avoid an unproductive event and drive efficiencies in non-customer facing spend helped bring down marketing expenses.
Margins ahead
The company expects its gross margin to improve in rest of the year, but not at the rate that it improved in fiscal 1Q17. Macy's (M) indicated gross margin pressure earlier this month.
Kohl's selling, general, and administrative expenses are expected to rise in fiscal 1Q17. However, the company's operating margin will likely benefit from its expense management efforts. To improve its productivity, Kohl's plans to make organizational structural changes and drive operational efficiency.
In the next part, we'll look at Kohl's valuation.