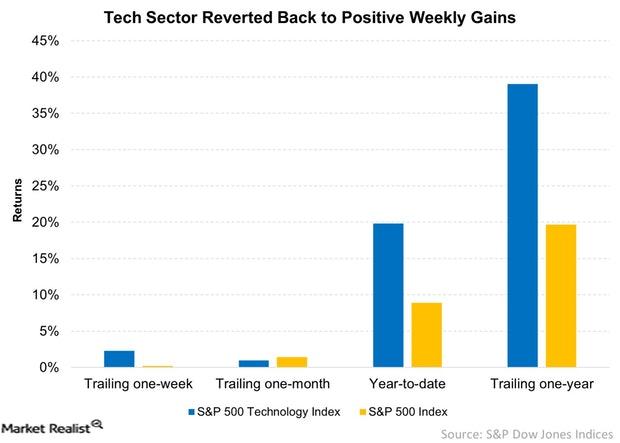 Key Tech Sector Updates for the Week Ended June 23, 2017
By Sanmit Amin

Nov. 20 2020, Updated 12:19 p.m. ET
Tech sector continues to outperform broader markets
Technology stocks (QQQ) rose a combined 2.3% in the week ended June 23, 2017, after three weeks of negative returns. The S&P 500 Index rose just 0.2% in the same period.
Oracle (ORCL), BlackBerry (BBRY), Red Hat (RHT), and Accenture (ACN) all reported earnings in the week. Micron Technology (MU) is the only technology company of note that will announce its earnings results in the coming week.
Article continues below advertisement
Top gainers for the week ended June 23
Advanced Micro Devices (AMD) was the biggest gainer in the technology sector in the week ended June 23. AMD shares rose a jaw-dropping 23.9% in the week, perhaps as the result of the launch of its new high-performance processors.
Red Hat shares rose 13.2% last week. The software company's shares soared after its earnings beat estimates. It also provided robust guidance for fiscal 2Q17.
Oracle shares rose 13.0% last week after the company beat earnings expectations. Meanwhile, BlackBerry shares were the biggest losers of the technology sector in the week, falling 7.5%. The company's shares plummeted on June 23 after it posted a big fall in its quarterly revenue.
Comcast (CMCSA) shares fell 4.3% in the week ended June 23 after influential media analyst Craig Moffett downgraded the cable sector to a "neutral" rating.
Accenture shares fell 3.8% in the week after the business consulting company trimmed its margin outlook but reported fiscal 3Q17 earnings that met expectations.
Blackberry continues to shift focus to software business
BlackBerry posted a steep fall in its quarterly revenue as it continued to shift its focus to its growing software business. Its fiscal 1Q18 revenue fell 41%, to $235 million, compared to $400 million in fiscal 1Q17. The Canadian software and device company reported earnings of $671 million, or $1.23 per share, in its fiscal 1Q18. A year earlier, the company saw an earnings fall of $670 million.
Article continues below advertisement
Oracle earnings beat analysts' estimates
Oracle released its fiscal 4Q17 results on June 21. The global computer technology company reported EPS (earnings per share) of $0.89, a rise of nearly 9.9% year-over-year (or YoY), beating analysts' expectations by $0.11. Its revenue came in at $10.9 billion, a 2.8% rise on a YoY basis.
Google to sell two robot-making companies
Alphabet (GOOG) is selling two of its robot-making companies for an undisclosed amount. The buyer is SoftBank, which has shown interest in robots and AI (artificial intelligence) technology.
The robotics companies are Boston Dynamics and Schaft. The latter is based in Tokyo and is a spin-off of the University of Tokyo.
Article continues below advertisement
Facebook and Snap to show original content on their respective platforms
Time Warner (TWX) announced that it would be investing $100 million in Snapchat (SNAP). The media giant will provide Snapchat with around ten original shows per year for the next two years. This comes at a time when Snapchat's download rate is falling. The deal could lead to a higher download rate for the app.
Facebook (FB) is also talking to Hollywood studios and agencies about producing shows in order to launch original programming on its own platforms such as Instagram.
Apple-Qualcomm legal battle continues
AMD to give Intel a run for its money in the server chip segment
Advanced Micro Devices launched its new generation of high-performance processors for data centers on June 20 in a bid to drive its way back into the data center computing engine market, which is currently dominated by Intel (INTC). As we mentioned above, AMD shares soared 23% last week.