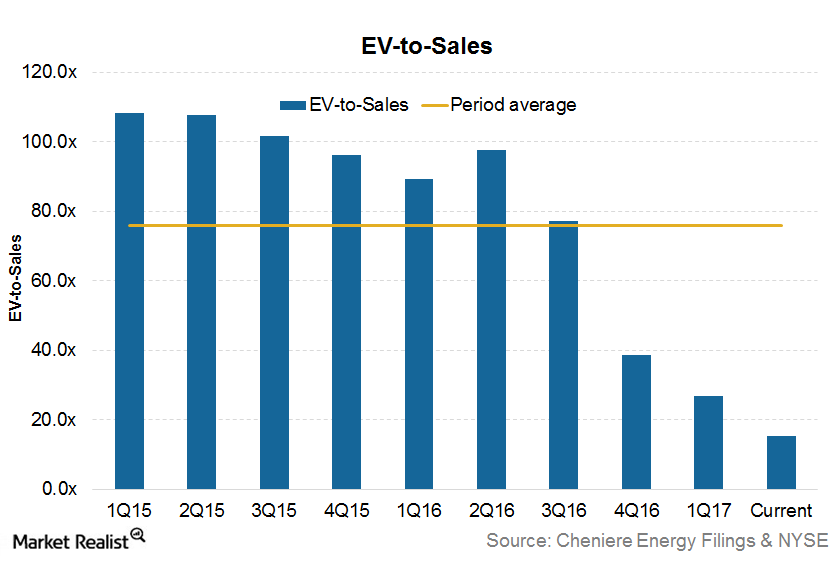 Is Cheniere Energy's High Relative Valuation Justified?
Cheniere Energy's EV-to-sales
Cheniere Energy (LNG) was trading at an EV (enterprise value)-to-sales multiple of ~15.2x on June 22, 2017, which is much lower than its average over the past ten quarters. Cheniere's forward EV-to-sales multiple was 8.9x. This lower forward EV-to-sales ratio could reflect revenue growth from the beginning of operations at Trains 3 and 4 of Sabine Pass.
Article continues below advertisement
LNG's EV-to-EBITDA
Cheniere's forward EV-to-EBITDA (enterprise value to earnings before interest, tax, depreciation, and amortization) multiple was 19.1x on June 22. This is higher than the peer median of 11.5x.
Cheniere Energy's high valuation might not be justified, considering its high leverage, negative earnings, and the uncertainty in global LNG (liquified natural gas) markets driven. This valuation is pushing the company toward a buyer's market, wherein LNG-consuming nations have come together to negotiate a better deal.
A first mover advantage?
At the same time, Cheniere Energy's high valuation might reflect a first mover advantage, foreseeable cash flows from long-term contracts, and a rise in LNG demand from new emerging markets. Recently, US inked a LNG trade deal with China to boost its LNG exports.
Moreover the company is exploring several other expansion opportunities. This includes downstream opportunities like power generation and FSRUs (floating storage regasification units), mid-scale LNG projects, and pipeline projects. Cheniere Energy recently achieved "important regulatory and financial milestones" for its Midship Pipeline Project.
In the next and final part of this series, we'll look at the recent analyst recommendations for LNG.