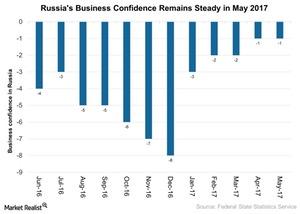 Is Business Confidence in Russia Improving in 2017?
Business confidence in Russia
Business confidence in Russia (ERUS) continued to show signs of stability in May 2017 as confidence levels remained steady. Business confidence was still at its highest level over the past year. Global (ACWI) recovery from the 2008 financial crisis and the resurgence of oil prices (XOM) (BP) (CVX) have helped improve business confidence in Russia.
In the graph below, you can see Russia's business confidence level over the past year.
Article continues below advertisement
Business confidence
Business confidence in Russia (RUSL) remained steady at -1.0 in May 2017 compared to April 2017. Businesses showed mixed expectations for the future, with ~26.0% of manufacturers surveyed in May 2017 expecting production to rise in the next three months. That compares to 28.0% in April 2017. Demand expectations continued to remain in negative territory, although they improved slightly in May at -34.0%, from -35.0% in April 2017.
Overall, the economic situation is considered favorable by 10.0% of respondents in a business confidence survey in May 2017. It was the same in April 2017. About 74.0% of respondents consider the current economic situation satisfactory compared to 73.0% in the previous month. The Russian economy continues to be challenged by economic uncertainty due to sanctions of the Western world.
Article continues below advertisement
Impact of improved business confidence
Russia's business confidence indicates a level of optimism about the state of the economy. The business community's expectations are seen as drivers for investments and spending activities. Improved business confidence is also expected to support manufacturing activity. Improving business confidence in Russia has resulted in ten consecutive months of growth in manufacturing activity as of May 2017.
However, for the last few months, oil prices have been struggling to maintain an uptrend, which has affected oil-dependent economies (EWZ). The iShares MSCI Russia Capped (ERUS), which offers exposure to Russian equities, has fallen about 13.0% so far in 2017 as of June 2, 2017. The energy sector holds the maximum allocation in ERUS as of June 6, 2017.
Next, let's look at Russia's equities in detail.