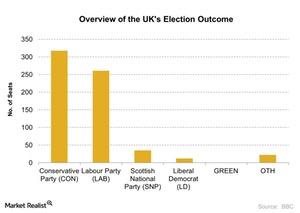 A Look inside the UK's Election Outcome
UK election outcome
The much-awaited UK (EWU) general election happened on June 8, 2017, and exit polls showed that the ruling Conservative party fell short of gaining the majority vote. The Labour party, led by Jeremy Corbyn, saw big gains.
The UK parliament consists of 650 seats. A party needs 326 votes to gain the majority and form a government. Prime Minister Theresa May's Conservative party lost its majority. According to BBC projections, May's Conservative party is set to take 318 seats, and Corbyn's Labour party is set to take 261 seats.
The election outcome showed a swing in the political environment in the United Kingdom, and May is potentially expected to step down from her position as prime minister. However, she may also meet with Queen Elizabeth II and look for an approval to form a government.
Article continues below advertisement
Market expectations
The market showed a mixed response to the election's outcome. Going forward in this series, we'll analyze the performances of various indexes and currencies following the announcement of the exit poll.
The market had expected May's Conservatives to win the majority vote. As the process of negotiations for the United Kingdom's exit from the European Union (VGK) (IEV) (EZU) continues, the nation requires stabilization in its political environment as soon as possible.
In the next part of this series, we'll analyze the performance of the British pound.