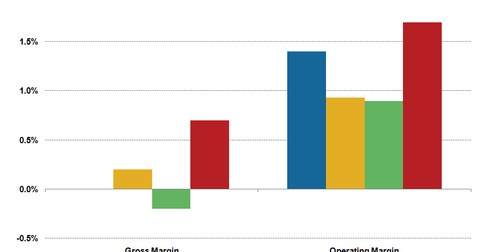 Inside Food Manufacturers' Margins Today
By Amit Singh

Updated
Gross margin impacted by lower sales
Packaged food manufacturers are leaving no stone unturned to drive margin growth as accelerating sales growth has remained tough. Portfolio restructuring, supply-chain initiatives, and cost-savings measures are boosting the profitability of these companies. But despite these measures, lower sales and adverse currency movements are negatively impacting their gross margins.
In 1Q17, Mondelēz's (MDLZ) adjusted gross margin fell 20 basis points to 40.3%, as unfavorable product mix and higher input costs offset productivity savings. Kraft Heinz's (KHC) gross margin remained flat at 36.2%, as lower sales and currency fluctuations offset incremental cost savings.
On the contrary, Kellogg's (K) gross margin rose 20 basis points to 38.3%, as lower sales volumes were offset by a fall in input costs, productivity, and cost savings.
Notably, Hershey (HSY) outperformed peers on the gross margin front, posting a 70-basis-point expansion in its gross margin to 47.5% in 1Q17, driven by increased sales, supply chain productivity, and lower input costs.
Article continues below advertisement
Operating margin boosted by cost savings
All four companies generated significant operating margin expansions driven by cost cutting measures. Despite its decline in gross margin, Mondelēz's adjusted operating margin grew 90 basis points to 16.8% in 1Q17, driven by supply chain productivity savings and a reduction in overhead expenses.
Kraft Heinz, whose gross margin remained flat, witnessed a stellar 140-basis-point expansion in its operating margin on the back of lower SG&A (selling, general, and administrative) costs as a percentage of sales.
Kellogg's comparable operating profit margin rose 93 basis points to 16.2%, reflecting efficiencies and cost savings across all its regions.
Hershey outdid peers on the operating margin front as well. The company's adjusted operating margin expanded 170 basis points to 23.2%, driven by a higher gross margin, productivity savings, and a decline in SG&A expenses.
Outlook
Packaged food manufacturers are expected to report healthy margin growth in 2017, as restructuring initiatives aimed at lowering costs should positively impact profitability metrics. Streamlining portfolios, which includes reducing low-velocity and low-margin products, lower input costs (mainly for confectioners), and a focus on annual productivity and cost savings through zero-based budgeting should all help cushion these companies' margins as well.