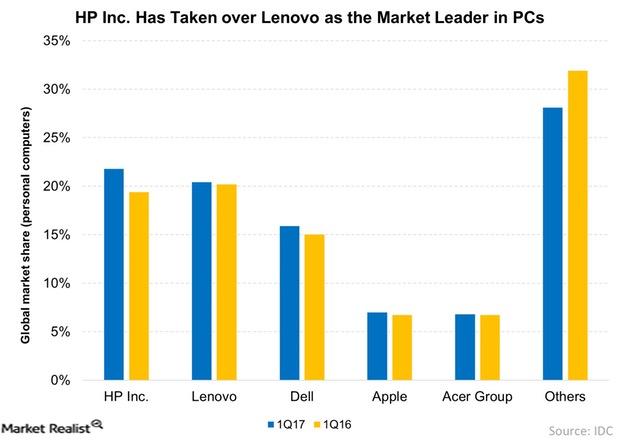 HP Overtakes Lenovo as Leader in PCs
By Sanmit Amin

Jun. 2 2017, Updated 7:38 a.m. ET
Lenovo dethroned as leader in PC market
Chinese computer behemoth Lenovo (LNVGY) flourished for years in a mature PC (personal computer) market through cost cutting. However, for the first time in four years, the PC maker has slipped to second place in the PC market. HP Inc. (HPQ) has taken the crown.
The PC market saw positive growth for the first time in five years. Industry shipments grew 0.6% in 1Q17, as compared to shipments in 1Q16, according to IDC. Lenovo's PC shipments grew 1.7%. However, that was not good enough to hold its first place position as HP's shipments increased an impressive 13.1%, according to IDC.
However, sustained growth in the global PC market is unlikely, as most people have substituted PCs with smartphones. The graph above suggests that the top five players in the PC market have tightened their grip on the market in 1Q17.
Other PC makers have lost 11.6% of market share compared to 1Q16. Apple's (AAPL) market share has grown to 7.0% in 1Q17, as compared to 6.7% in 1Q16.
Article continues below advertisement
Global and US sales
While Lenovo's overall shipments grew 1.7%, its unit sales in the US fell 4.2% on a YoY basis, according to IDC. In an attempt to revive its market share, the company has just brought back Liu Jun, who left the company after acquiring Motorola in 2015.
As the PC market is declining, Lenovo may depend upon its smartphone segment to ensure revenue growth. However, it will still face stiff competition from Chinese smartphone makers like Xiaomi, Huawei, and Vivo—and, of course, from Samsung (SSNLF).