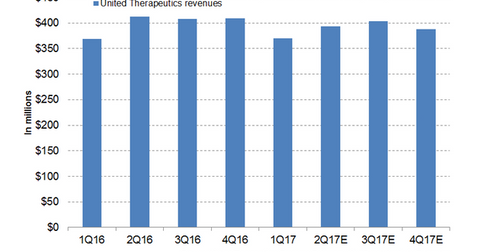 How United Therapeutics Is Expected to Perform in 2017
By Daniel Collins

Updated
United Therapeutics revenue trends
In 2016, United Therapeutics (UTHR) reported revenues of ~$1.6 billion, reflecting ~9.0% year-over-year (or YoY) growth. In 1Q17, the company generated revenues of around $370.0 million, which is an ~9.0% decline quarter-over-quarter.
The competition from the generic players in the pulmonary arterial hypertension (or PAH) drug market was the primary reason for the modest decline in United Therapeutics' revenues in 1Q17.
In 1Q17, United Therapeutics reported total operating expenses of ~$106.9 million. The company reported R&D expenses of ~$36.2 million. Its selling, general and administrative (or SG&A) expenses reached ~$56.4 million.
The chart above shows United Therapeutics' revenue trend from 1Q16 to 1Q17 and Wall Street analysts' estimated revenue projections from 2Q17 to 4Q17. To learn more about United Therapeutics, please read Why United Therapeutics Expects Strong Revenue Growth.
Article continues below advertisement
Key growth drivers for 2017
United Therapeutics (UTHR) expects the sales of Tyvaso, Orenitram, and Remodulin to witness significant revenue growth in 2017. During 2016, there was a high adoption rate of AMBITION therapy in patients with PAH. Gilead Sciences (GILD) and GlaxoSmithKline (GSK) collaborated on the AMBITION clinical trial, which evaluated the effectiveness of a combination therapy of Ambrisentan and tadalafil.
The Ambrisentan and tadalafil combination therapy was approved by the FDA in October 2015. However, United Therapeutics expects that patients would need true prostacyclin therapy. As a result, sales of Orenitram, Tyvaso, and Remodulin may witness rapid growth.
After Actelion Pharmaceuticals' Uptravi was launched in December 2015, United Therapeutics witnessed a gradual decline in the number of patients using its products. However, the company noted that the decline in the number of patients nearly stopped and had stabilized in 4Q16. The company views this as a positive sign for the sales growth of Orenitram, Tyvaso, and Remodulin in 2017.
United Therapeutics' peers in the PAH drugs market include GlaxoSmithKline, Novartis (NVS), Teva Pharmaceuticals, and other generic drug manufacturers.
Growth in United Therapeutics' product sales may boost the iShares Core S&P Mid-Cap ETF (IJH). United Therapeutics comprises about 0.36% of IJH's total portfolio holdings.
In the next article, we'll discuss United Therapeutics' Remodulin.