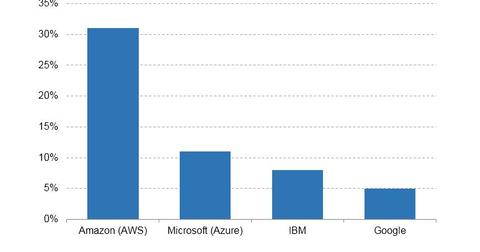 How Seattle and Bay Area Hiring Compare for Google
By Neha Gupta

Updated
Google Cloud site coming up in Seattle
Google, an Alphabet (GOOGL) company, is building a cloud site in Seattle, Washington. The company's product management director, Greg DeMichillie, revealed the Seattle cloud project at the recent GeekWire Cloud Tech Summit.
The cloud location in Seattle would bring Google closer to two of its fiercest cloud rivals, Amazon.com (AMZN) and Microsoft (MSFT). Amazon, which operates the world's largest cloud computing platform, AWS (Amazon Web Services), has its global headquarters in Seattle. Notably, Microsoft is headquartered in Redmond, a suburb of Seattle.
Article continues below advertisement
A battle for billions in cloud computing
Pitching camp closer to Amazon and Microsoft could help Google poach talents from these cloud rivals to strengthen its own Google Cloud platform. Google is in the race to catch up with Amazon and Microsoft in the battle for billions of dollars in cloud computing spending.
AWS is leading the cloud computing race with more than one-third of the market share. IBM (IBM) and Oracle (ORCL) are also in the race.
Why Google favors Seattle
Aside from the advantage of being closer to competitors, Google favors operating in Seattle because of the ease of filling positions faster in the city, as compared to Bay Area.
DeMichillie told attendees at a recent Seattle convention that workers are more likely to relocate to Seattle than to Bay Area, according to the SiliconBeat, because housing costs in Seattle are lower than in the Bay Area.