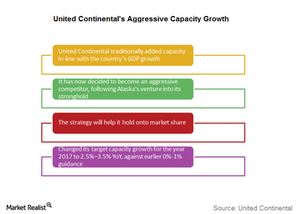 How Is United Continental's Increased Capacity Growth Plan Affecting the Industry?
By Ally Schmidt

Jun. 12 2017, Updated 2:05 p.m. ET
Overcapacity fears resurface
Airlines' history of destroying capital has made investors wary of the industry. A big part of the industry's problem in the past, however, has been due to undisciplined capacity growth, which companies are unable to fill during times of low growth.
Article continues below advertisement
Fights with Alaska
It all started with Alaska Air (ALK) trying to venture into United Continental's (UAL) stronghold of San Francisco. When Alaska Air acquired Virgin America, it did so with the intention to add to VA's robust customer base in California.
And so in March 2017, Alaska announced its plan to add ten new routes from San Francisco, starting from August to end 2017. United Airlines had a monopoly on nine of these routes, operating one flight per day on many of the routes. Alaska would thus be on par with UAL once its new routes are operational.
That was when United Continental, the airline that has traditionally added capacity in line with the country's GDP growth, decided to become an aggressive competitor and hold on to its market share.
Additional flights
In response to Alaska, United Continental has announced plans to add flights on six of Alaska Air's new routes. The other two routes will be from San Francisco to Portland and Seattle—Alaska Air's main hubs.
Given the industry's history, however, United Continental's plan to pursue aggressive capacity growth is worrisome. The effects are already visible, with peers responding with similar capacity growth. As soon as UAL announced its intention to increase capacity growth, American Airlines (AAL) also announced several new routes from Chicago.
Notably, investors can gain exposure to United Continental by investing in the First Trust Industrials/Producer Durables AlphaDEX Fund (FXR), which has 2.1% of its portfolio in UAL. FXR also has 2.1% in Delta Air Lines (DAL) and 2% in JetBlue (JBLU).
In the next part, we'll assess whether UAL has been able to fill up all this extra capacity.