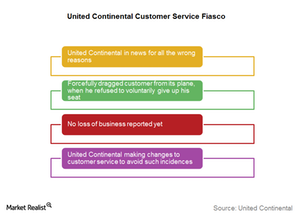 How Is United Continental Handling Its Customer Service Fiasco?
By Ally Schmidt

Jun. 13 2017, Updated 9:06 a.m. ET
UAL's fiasco
Lately, United Continental (UAL) has been in the news for all the wrong reasons. In April, a customer (Dr. David Dao) was forcefully dragged off a plane when he refused to voluntarily give up his seat. United claimed that it needed the seat for staff transport.
The effect was magnified due to the accompanying video uploaded by fellow passengers, which went viral. The hurt, screaming passenger and the other traumatized passengers—who were begging local security personnel to stop—were just too much for consumers to stomach.
Article continues below advertisement
Has United's business been affected?
The incident took place at the start of April. Surprisingly, in the two months since then, United has not reported any loss in business. According to Airline Weekly's managing partner, Seth Kaplan, one-off events do not tend to impact airlines' business on a long-term basis.
What's United Continental doing about it?
UAL CEO (chief executive officer) Oscar Munoz initially tried to defend the airline's employees and security personnel. However, that didn't go over well with the public. The airline has since changed its stance and has been bringing changes to its customer service approach.
In its May traffic release, UAL President Scott Kirby gave a customer service update, stating: "We're seeing initial progress following our customer-focused policy changes, with involuntary denied boardings down 79 percent year-over-year in May. We will continue to build on this momentum as we head into the busy summer travel season."
Aside from this event, United has always been at the bottom of the customer service rankings, and it appears that UAL will have to continue bringing drastic changes to its operations if it hopes to retain its "premium airline" status.
Investors can gain exposure to United Continental by investing in the First Trust Industrials/Producer Durables AlphaDEX Fund (FXR), which has 2.1% of its portfolio in UAL. It also has 2.1% in Delta Air Lines (DAL), 2% in JetBlue (JBLU), and 1.9% in Spirit Airlines (SAVE).