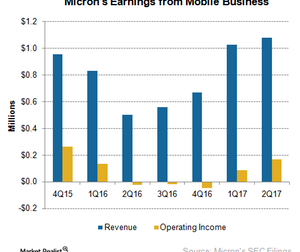 How Increasing DRAM Prices Could Impact Micron's Mobile Business
By Puja Tayal

Updated
Micron's Mobile Business Unit earnings
Micron Technology (MU) is seeing a strong demand in the storage space as AI (artificial intelligence) adoption picks up. Another fast-growing market in which Micron has its hands is the smartphone market. Its MBU (Mobile Business Unit) revenue rose 114.0% YoY (year-over-year) in fiscal 2Q17 as it secured design wins for its 14 nm (nanometer) LPDDR (Low Power Double Data Rate Synchronous DRAM) in fiscal 3Q16.
Micron's MBU revenue rose 4.8% sequentially to $1.08 billion in fiscal 2Q17. The segment's revenue is likely to rise 3.0% sequentially to $1.1 billion in fiscal 3Q17 as demand from China's (MCHI) handset makers and Apple (AAPL) remains soft due to seasonal weakness.
However, demand is likely to pick up in fiscal 4Q16 as Apple prepares to launch its iPhone 8 in September 2017 and as seasonal demand from China's handset makers increases.
Now let's look at some of Micron's key growth drivers.
Article continues below advertisement
Increasing adoption of LPDDR4
According to DRAMeXchange, the adoption of LPDDR4 and LPDDR4X is increasing as the price difference between LPDDR4 and LPDDR3 narrows to less than 5.0%. DRAMeXchange expects LPDDR4 and its variants to account for 50.0% of the total mobile DRAM shipments in 2017, with the share of LPDDR4X surpassing that of LPDDR4.
According to data from Samsung (SSNLF), SK Hynix, and Micron, LPDDR4X components consume 10.0%–20.0% less power than LPDDR4 components and 40.0%–50.0% less power than LPDDR3 components.
A report from DRAMeXchange stated that the ever-increasing demand for a longer battery charge in smartphones is driving the adoption of LPDDR4X. The increase in the number of devices with mobile form factors such as ultrabooks, IoT (Internet of things) devices, and wearables is expanding the breadth of the LPDDR4 market.
Samsung dominates the LPDDR4X market, followed by SK Hynix and Micron in second and third places.
Increasing memory content per device 
Another factor that's driving MBU revenue is the increasing memory content per device. However, a recent report by TrendForce stated that rising DRAM prices might discourage handset makers from increasing memory content since that would increase their costs and impact their margins.
TrendForce lowered its 2017 estimate for average memory content per mobile unit from 3.7 GB (gigabytes) to 3.2 GB, representing a 33.4% YoY increase in content.
Apple increased the DRAM content from 2 GB in the iPhone 6S Plus to 3 GB in the iPhone 7 Plus. TrendForce smartphone analyst Avril Wu expects Apple to cap the iPhone memory at 3 GB in 2017 and launch a 4 GB iPhone in 2018.
Next, we'll look at Micron's embedded business.