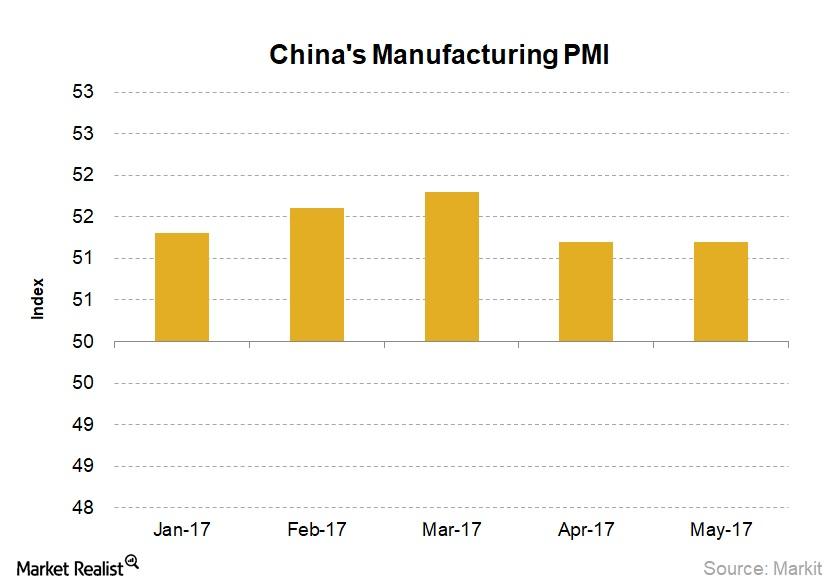 How China's Manufacturing and Auto Industry Are Impacting Crude Tankers
By Sue Goodridge

Nov. 20 2020, Updated 3:51 p.m. ET
China's PMI in May
The PMI (purchasing managers' index) is an indicator of a country's manufacturing health, and manufacturing industry health is closely related to the oil demand of a country. In May 2017, the Markit China Manufacturing PMI was 51.2 (MCHI)—similar to the previous month. For the past ten months, the index has consistently been above the 50 mark.
However, in May, China's Caixin PMI fell below 50—a neutral mark for a PMI. A reading of below 50 signifies contraction, while a reading of above 50 indicates expansion.
Article continues below advertisement
China's auto sales in May
Gasoline is one of the major petroleum products consumed in China, and gasoline demand is dependent on the automobile industry. China's (FXI) auto sales fell to ~2.1 million in May 2017—the second consecutive monthly fall in China's auto sales. Sales from January to May rose 3.7% overall, compared with same period in 2016.
The fall in auto sales is expected to continue through July and August, according to a CAAM (China Association of Automobile Manufacturers) spokesperson. According to CAAM forecasts, 2017 auto sales growth should be around 5%—much lower than 2016's growth rate. In 2016, China's auto sales rose 13.7%, and slowing growth won't bode well for the crude oil tanker industry.
On the other hand, higher automobile sales boost gasoline demand, increasing the demand for crude oil and the demand for crude oil tankers. Major crude tanker companies include Nordic American Tankers (NAT), Teekay Tankers (TNK), DHT Holdings (DHT), and Tsakos Energy Navigation (TNP).