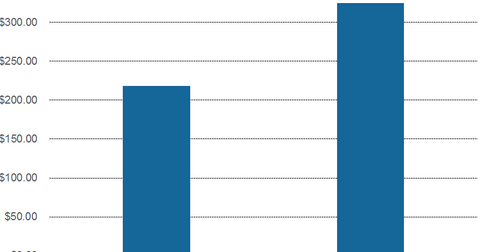 How Activision Plans to Grow Its eSports Segment
By Adam Rogers

Updated
High potential to grow revenues
During Activision Blizzard's (ATVI) 1Q17 earnings call on May 4, 2017, CEO Robert Kotick stated that one of the firm's top priorities is to unlock potential in the eSports segment by the sale of teams and media rights of gaming leagues.
Kotick noted, "Over the years, we've become a leader in creating world class competitive experiences, sustainable franchises that engage hundreds of millions of people around the world, through gameplay competition and connecting players and communities."
Article continues below advertisement
Activision Blizzard (ATVI) aims to professionalize eSports and create commercial opportunities similar to those seen in established sports leagues. Players all over the world now compete in eSports, and Activision wants to deliver a unique competitive experience. Marketers and advertisers can also target their Millennial customers through the eSports channel.
Overwatch League to be launched this year
Activision is planning to launch the Overwatch League this year and expects it to attract a variety of advertisers and sponsors. The company hopes this move could attract licensing, broadcast revenues, ticket sales, and unique spectator experiences. Activision wants to build a dedicated global eSports channel driven by the acquisition of MLG (Major League Gaming).
Kotick wants eSports gaming leagues to generate revenues similar to those of professional leagues such as the NBA and the NFL in the United States (SPY). The NFL generates more than $12.0 billion in annual revenues—50% of these revenues come from media rights. Similarly, the NBA generates $5.0 billion in revenues, including $1.8 billion from media rights.
Activision Blizzard (ATVI) is optimistic about its long-term opportunities in the eSports segment. It believes the vast user base of 400 million MAUs (monthly active users) can create significant advertising revenues.
According to Newzoo, advertisers spent $325 million on eSports in 2016, a rise of 49% year-over-year.