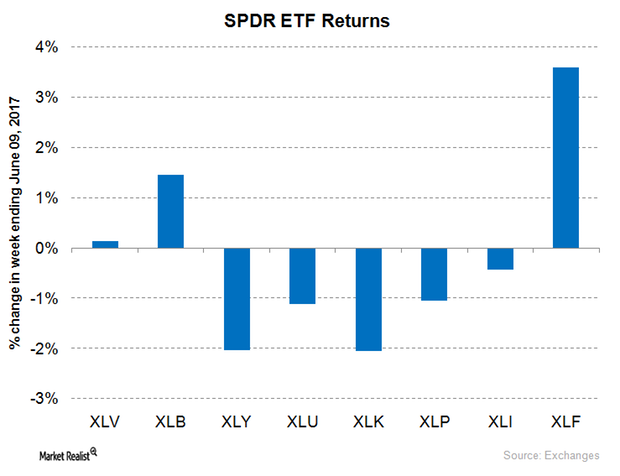 Health Sector Overview: Week of June 5–9, 2017
By Margaret Patrick

Jun. 13 2017, Updated 7:43 a.m. ET
Market performance
While the S&P 500 Index (SPY) (SPX-Index) witnessed a drop of around 0.31% in the week ending June 9, 2017, the Health Care Select Sector SPDR Fund (XLV) saw a rise of 0.13%. The market index was mainly affected by the abrupt drop in prices of major technology stocks such as Facebook, Apple, Netflix, Amazon, and Nvidia on June 9, 2017. The sell-off was driven by the cautious views that Goldman Sachs expressed for the overall technology sector. Further, company-specific factors also contributed significantly to the fall in the SPY Index.
Article continues below advertisement
Currently, Johnson & Johnson (JNJ), Pfizer (PFE), Merck (MRK), UnitedHealth Group (UNH), Amgen (AMGN), Medtronic, AbbVie, Celgene, Bristol-Myers Squibb, and Gilead Sciences are the top ten stocks in XLV's total portfolio holdings. Johnson & Johnson, which makes up 12.1% of XLV's portfolio holdings, witnessed a rise in share prices on June 9, 2017, after the market learned about the European Commission approving its proposed acquisition of Swiss biotech company Actelion.
The iShares Nasdaq Biotechnology ETF (IBB), however, reported a drop of around 0.57% in the week ending June 9, 2017. The iShares U.S. Medical Devices ETF (IHI) also dropped 0.46% in the last week.
Major winners in week ending June 9, 2017
Investor sentiment turned strongly positive for Bluebird Bio, as BMO Capital upgraded the company from a "market perform" rating to an "outperform rating" and raised its price target from $61 to $108.
Kite Pharma also witnessed a rating upgrade from BTIG Research from "neutral" to "buy." The company's share price also benefitted from positive data released from its phase 1 trial, ZUMA-3, evaluating investigational therapy KTE-C19 for relapsed/refractory acute lymphoblastic leukemia.
Article continues below advertisement
In the last week, Avexis continued its upward movement, inching closer to the consensus analyst target price of $91.0. Cowen initiated coverage for Sage Therapeutics with an "outperform" rating and set the price target at $95.0. The stock also benefitted after the company announced that it would present data at the Goldman Sachs Global Healthcare Conference on June 14, 2017.
Major losers in week ending June 9, 2017
Last week, BTIG Research downgraded Juno Therapeutics from a "neutral" to "sell" rating, resulting in a rapid sell-off of the stock.
On June 6, 2017, Exact Sciences announced that it would offer 7 million shares at $35.0 in secondary offerings. Since this price was lower than the company's share price on June 5, 2017, investors considered this as a sign of troubled deal. This coupled with additional selling pressure due to investors trying to earn a quick profit has affected the company's share prices.
On June 8, 2017, the U.S. Food and Drug Administration (or FDA) requested Endo International to withdraw its opioid medication, reformulated OPANA ER, from the market due to safety concerns related to drug abuse. This development negatively affected investor confidence for the stock.
Incyte suffered from a lack of investor confidence as the company withheld data related to several patients when it released results from its ongoing Phase 1/2 ECHO-202 trial evaluating the company's selective IDO1 enzyme inhibitor with Merck's Keytruda for advanced non-small cell lung cancer.
Pre-earnings coverage for June 12–16, 2017
Alere (ALR), Axovant Sciences, and Patheon are the major healthcare companies expected to release their quarterly earnings results in the week ending June 16, 2017.
Wall Street analysts have projected 1Q17 revenues for Alere, Axovant Sciences, and Patheon to be around $591.3 million, $0, and $520.2 million, respectively.