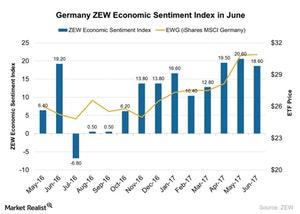 Why Germany's ZEW Economic Sentiment Index Fell in June 2017
By Sarah Sands

Nov. 20 2020, Updated 5:18 p.m. ET
Germany's ZEW Economic Sentiment Index
Germany's ZEW Economic Sentiment Index (EWG) fell to 18.6 in June 2017, compared to 20.6 in May. The index didn't meet the market's expectation of 21.5. It fell for the first time in the month after continuously rising for the last four months.
The index measures the optimism that institutional investors and analysts have in Germany's current economic situation.
After the Brexit decision in June 2016, the index fell to -6.8 in July 2016. However, the index has shown solid improvements in the last 11 months. The Brexit vote's one-year anniversary was on June 23, 2017. Investors across the globe expect the United Kingdom (EWU) to face huge uncertainty due to its exit from the European Union (VGK) (IEV), with trade relations between the United Kingdom and the Eurozone likely to be hampered. Because Germany is a leading economy in the Eurozone, such turbulence could affect its economy more intensely.
In the present situation, the fall in Germany's economic sentiment index is signaling a marginal fall in the overall demand outlook. However, this change may not affect the region's economic growth at large.
Recently, the ECB's (European Central Bank) president, Mario Draghi, hinted that there would be no room for further rate cuts in the economy (HEDJ). Draghi's comments indicate the central bank's belief that the risk of lower inflation is gradually moving away from the economy—a positive sign.
In the next part of this series, we'll analyze the performance of Japan's retail sales in May 2017.
Article continues below advertisement