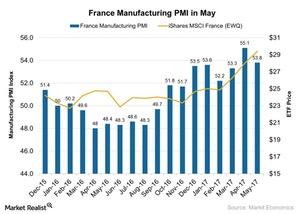 Can Macron Revive France's Manufacturing PMI?
France Manufacturing PMI in May
The France Manufacturing PMI (purchasing managers' index) improved to 53.8 in May 2017, as compared to 55.1 in April 2017, according to data provided by Markit Economics. It did not meet the initial estimate of 54.0.
The slower improvement in the France Manufacturing PMI in May was mainly due to the following:
Production volume and output rose at a slower pace in May 2017 as compared to April 2017.
Export orders and new orders rose at a slower pace.
Employment growth improved at a stronger pace. May was the sixth consecutive month of expansion in employment.
Article continues below advertisement
Performance of various ETFs in May
Markets showed a different picture in May 2017. The iShares MSCI France ETF (EWQ), which tracks France's performance, rose 4.6% in May 2017. The Vanguard FTSE Europe ETF (VGK), which tracks Europe's (IEV) (EZU) economic performance, rose 4.5% in May.
After France's election outcome in May, the market showed a positive sentiment. The optimistic view of policy reformation and the improvement of a business friendly environment in France (EWQ) during President Emmanuel Macron's term mainly drove market movements in May.
The weaker improvement in the France Manufacturing PMI was mainly due to softer international demand in May. We might see an improved investment in France in the near future. French President Emmanuel Macron is presenting a clean politics bill, which mainly aims to eliminate corruption from the system and renew people's faith in French politics.
In the next part of this series, we'll analyze the Germany Manufacturing PMI for May 2017.