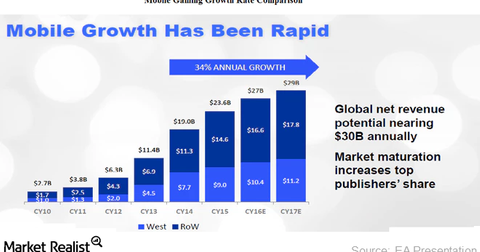 Factors Driving Mobile, Console, and PC Gaming for Activision
By Adam Rogers

Updated
Mobile gaming and eSports
Previously in this series, we saw how the eSports sector is quickly becoming a lucrative market for gaming companies like Activision Blizzard (ATVI), Electronic Arts (EA), and Take-Two Interactive Software (TTWO). Mobile gaming is another segment that is growing at a rapid pace. 
Due to low entry barriers, mobile gaming has an advantage over consoles and PCs. There are also several free mobile games available that enable millions of gamers to compete against each other.
According to Newzoo's research report, "The mechanical necessities that are required to create a great mobile game can result in simple, but deep esports titles." 
China and South Korea are early adopters when it comes to mobile gaming. Twenty-four of the top-grossing mobile games on Android (GOOG) (GOOGL) have organized tournaments in China.
EA's mobile gaming revenues rose 1.2% year-over-year (or YoY) to $175.0 million in 4Q17. The company's mobile gaming revenues rose 21.0% YoY in 2Q17 and 7.0% YoY in 3Q17. Activision's mobile gaming revenues rose 95.0% YoY to $475.0 million in 1Q17.
Article continues below advertisement
Trends for PCs and consoles
PCs and consoles bring a unique playing experience to gamers, as 87% of console gamers also play games on PCs. Although the PC makes it easier to share and upload content online, consoles offer streaming services to players. PC users are more likely to make system upgrades and upgrade their hardware on a regular basis.
Gaming companies have embraced the evolution of mobile and digital gaming over the last few years. There has been a global shift from PCs and consoles toward digital and online gaming.