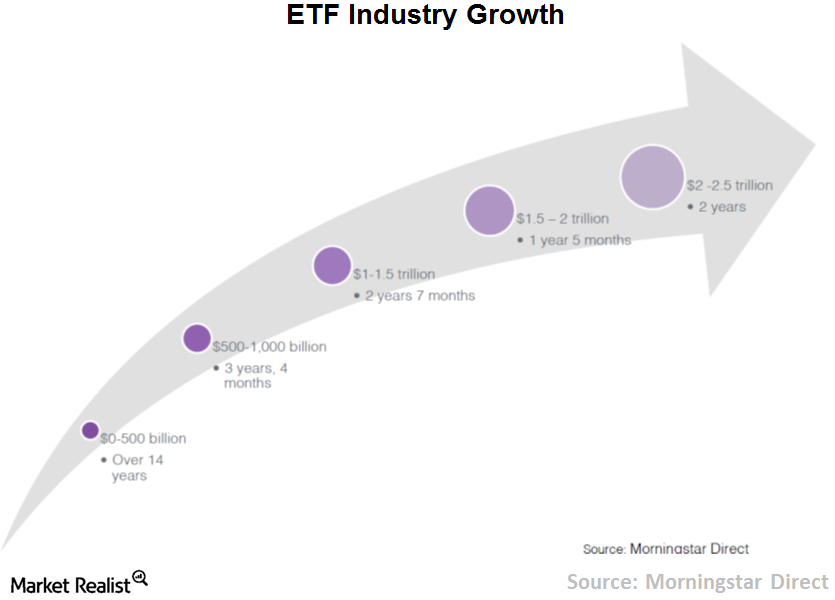 ETFs Are Expected to Post Strong Growth
By Peter Barnes

Jun. 13 2017, Updated 7:36 a.m. ET
TETF
Participating in future growth
ETFs continue to grow but the hard data doesn't seem to support the claims of an ETF fueled bubble.  ETFs and the industry have experienced significant growth over the past five years, as their assets have grown in the U.S. from $1.2 trillion to $2.7 trillion; the number of U.S. ETF sponsors has increased from 45 to 78; and the average ownership of U.S. equities by ETFs has more than tripled.
Article continues below advertisement
Market Realist
ETFs are expected to witness strong growth
ETFs have become popular with investors because they're a convenient tool for taking exposure in the stock market. Increased awareness about the possible benefits and advantages of ETFs (SPY) bolstered the demand for numerous products launched by ETFs.
Current asset base
The total size of the US ETF (VOO) (IWD) industry rose 32% in 2016 to $2.8 trillion—compared to the previous year. Recent growth in the US ETF industry is due to continued improvement in markets during the period. In April 2017, the number of product launches exceeded 2,000. According to XTF data, as of June 6, 2017, the US ETF marketplace has 2,025 exchange traded products from 108 fund sponsors and 130 index providers listed on four exchanges. Year-to-date, ETF (IVV) (IVE) assets have risen 20%—compared to the previous year.
Strong growth outlook
Strong growth in the US ETF industry will likely continue in the future. The growth will mainly be driven by the introduction of more active ETFs, investor education, a lighter regulatory environment, and increased use of technology and data analytics. PwC analysis estimates that ETF assets in North America will grow at a compound annual growth rate of 23% until 2021 and likely reach $5.9 trillion.