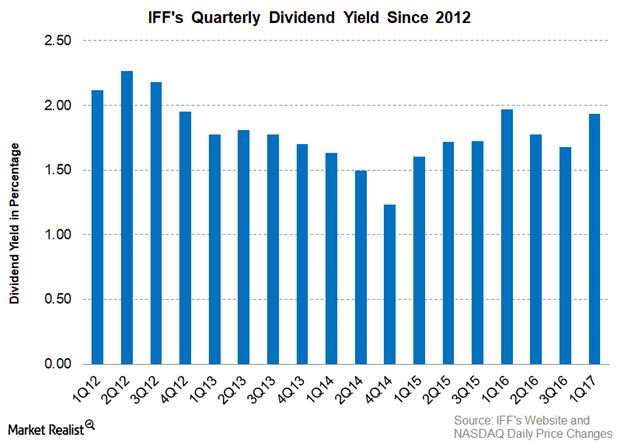 How Efficiently Did IFF Manage Its Dividend Yield?
Dividend yield
For long-term investors, the dividend yield is very critical. Investors usually prefer a company with higher dividend yields. A dividend yield shows investors the returns that will be obtained for every dollar invested in a company's equity.
As of June 14, International Flavors & Fragrance's (IFF) dividend yield was 1.9%. However, the company's yield is better than Sensient Technologies, which has a current dividend yield of 1.5%. Since 2012, International Flavors & Fragrances' dividend yield has remained consistent at 1.2%–2.1%. Although the company's price has seen tremendous growth since 2012, dividend growth helped International Flavors & Fragrances maintain a consistent dividend yield. The company's dividend yield is higher than the yield on one-year Treasury bonds.
Article continues below advertisement
Dividend payout
Dividend payouts tell investors what percentage of earnings is distributed as dividend. Dividend payouts can be calculated by dividing annual dividend per share by earnings per share.
Since 2012, International Flavors & Fragrances' dividend payout has remained at 39%–42%. The lower payout indicates that the company is retaining a higher portion of earnings for future growth and expansion, which could increase its earnings and benefit long-term shareholders. International Flavors & Fragrances has made significant acquisitions for future growth.
Investors can hold International Flavors & Fragrances by investing in the ProShares Ultra Basic Materials (UYM), which invests 1.2% of its portfolio in the company. The fund's top holdings include Dow Chemical (DOW), DuPont (DD), and Monsanto (MON) with weights of 7.6%, 7.6%,% and 5.5%, respectively, on June 14, 2017.