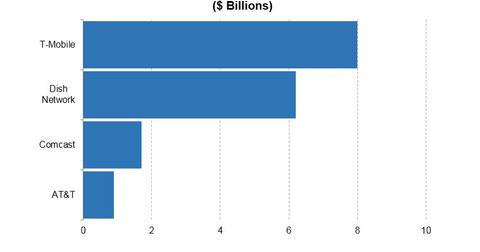 Could T-Mobile Be Left in the Cold?
By Ruchi Gupta

Updated
Shrinking deal options
T-Mobile (TMUS) has recently begun to look like a coveted asset for cable companies hoping to expand into the wireless market. If Comcast (CMCSA), Charter (CHTR), or DISH Network (DISH) wanted to accelerate their wireless expansion projects, T-Mobile appeared to be a perfect wireless partner.
But a recent development between Comcast and Charter could dim T-Mobile's merger prospects. The two companies have struck a deal to consult each other before entering a material merger or acquisition in the wireless market.
Assuming that Comcast and Charter choose to stay out of high-profile wireless acquisitions, T-Mobile's merger options would be narrowed down to DISH or Sprint (S).
Article continues below advertisement
Is DISH showing much interest?
But the prospects of DISH combining with T-Mobile are starting to look remote. DISH CEO (chief executive officer) Charlie Ergen has hinted that the company is still comfortable with the prospect of going into wireless alone.
Notably, DISH was among the top bidders in the most recent federal government spectrum auction. T-Mobile placed a high $8.0-billion bid, followed by DISH at $6.2 billion, and Comcast at $1.7 billion.
A partner of last resort
If T-Mobile is, in fact, eager to close a merger deal, its best bet looks to be Sprint, but the combination would be seen as a last resort. It's always seemed that T-Mobile would prioritize a merger with a cable or satellite company over a merger with a peer wireless provider.
At the same time, regulators could block a T-Mobile-Sprint merger deal on antitrust grounds. It's happened before, and it could happen again. In that case, T-Mobile could be left out in the cold when it comes to a transformative cable or wireless transaction.