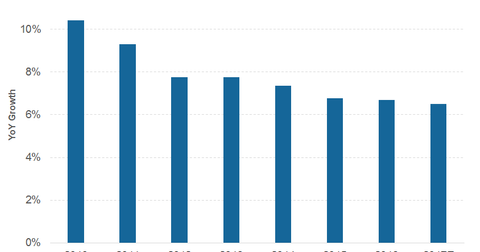 China's Economy May Spoil Macao's Party
By Ally Schmidt

Updated
China: The key market
The Macao region relies heavily on the Chinese mainland, as it garners a huge majority (about 67%) of its visitors and VIP gamers, from China and its neighboring countries. The weakness in the Chinese economy will adversely affect the spending capacity of people in the country, which could lead to a fall in the number of visitors to the Macao region. The devaluation of the Chinese yuan has only added to the woes of Macao, as it makes everything more expensive in the region.
Article continues below advertisement
Chinese GDP grows
In the first quarter of 2017, China's GDP grew 6.9% YoY (year-over-year), higher than analysts' estimate of 6.8%. This growth was the fastest seen since the third quarter of 2015. However, the country has not fared so well in other macro measures.
Social financing weakens
Most analysts believe that China's social financing measure is a strong proxy for Macao's VIP segment growth. The Chinese government has developed the social financing measure as an economic barometer. The measure includes funds raised by non-state entities such as non-financial corporate organizations and individuals.
In May 2017, this measure fell 24% month-over-month to 1.1 trillion yuan, or $155.2 billion—11% below the market estimate. As Macao's recent growth has been driven by the VIP segment, this measure signals trouble ahead.
Real estate slowdown
Another measure followed by analysts is China's real estate market, as it seems to have a strong correlation with Macao's revenue. Real estate prices had been improving. However, in May 2017, they fell 4% month-over-month, signaling trouble ahead.
Investors can gain exposure to casino stocks by investing in the PowerShares Dynamic Leisure and Entertainment Portfolio ETF (PEJ), which invests 5.3% of its portfolio in MGM Resorts (MGM) and ~3% in Wynn Resorts (WYNN). It has no holdings in Las Vegas Sands (LVS) or Melco Resorts & Entertainment (MLCO).