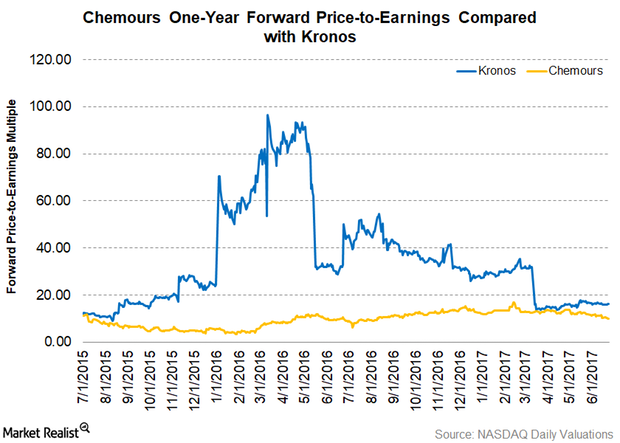 Chemours by Valuation: Where CC Stands among Peers
Chemours' forward PE
In the previous part of this series, we discussed the analyst price targets and recommendations for Chemours (CC). In this part, we'll discuss the company's valuation as compared to that of Kronos Worldwide (KRO).
On June 23, 2017, Chemours' one-year forward PE (price-to-earnings) multiple was 10.0x, as compared to KRO's one-year forward PE multiple of 16.30x.
The one-year forward PE multiple is a valuation multiple that takes a company's future earnings into account and tells an investor how much she's paying for the stock per dollar of expected earnings over the next 12 months. The forward PE is also a tool that investors can use to compare two or more companies in the same industry to see if a stock is overvalued or undervalued.
Article continues below advertisement
Chemours trades at a discount to Kronos
Chemours stock is now trading at a discount to Kronos stock. Chemours reported 1Q17 adjusted EPS (earnings per share) of $0.79, which represents a growth of 182% over 1Q16. With this strong earnings growth, analysts are expecting Chemours to post EPS of $3.27 for fiscal 2017, which would be an increase of 153% over fiscal 2016. For fiscal 2018, analysts are expecting CC to post EPS of $3.99, which would be 22.1% higher than its expected earnings of for fiscal 2017.
Chemours' growth appears to be intact, given the continued demand for titanium dioxide. Chemours has also commissioned a new line to produce the Tio2 pigment at 200,000 metric tons per year.
Kronos's EPS growth
On the other hand, analysts see Kronos's EPS growth as better than CC's. For fiscal 2017, analysts are expecting Kronos to post EPS of $1.01, which would be a growth of 214% over fiscal 2016. Analysts expect Kronos's fiscal 2018 EPS to come in at 1.30%, which would be a growth of 29.5% and higher than CC's fiscal 2018 EPS.
Notably, investors can gain indirect exposure to Chemours by investing in the iShares US Basic Materials ETF (IYM), which has 1.14% of its total portfolio in Chemours. IYM's top holdings include Dow Chemical (DOW) and DuPont (DD), which had weights of 12.1% and 11.9%, respectively, in IYM on June 23, 2017.