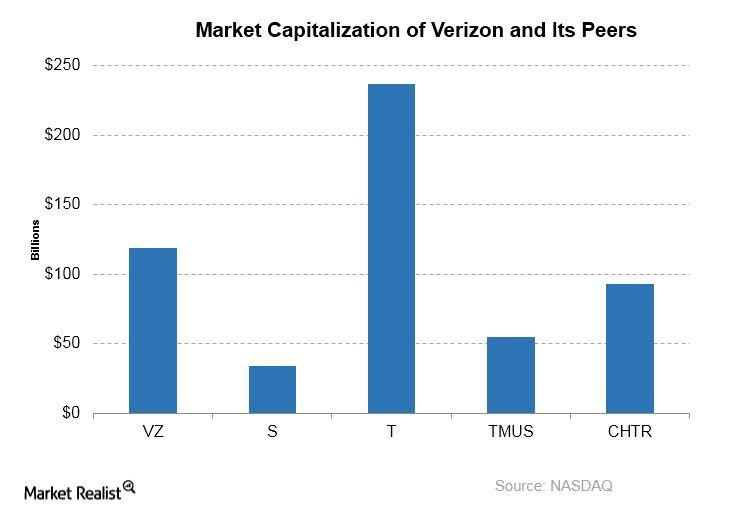 Chart in Focus: Verizon's Valuation Metrics
Market cap
On June 8, 2017, Verizon's (VZ) market capitalization was $188.7 billion, making it the second-largest global telecom player in terms of market cap. The market cap figures for Verizon's peers follow:
Article continues below advertisement
Dividend yields
Verizon's annual dividend yield was 5.0%. Dividend yield measures a company's annual dividend per share with respect to its price per share. A company's dividend yield reflects how much cash an investor receives for every dollar invested in a company's equity.
Short-term and long-term debt
At the end of the most recent quarter, Verizon's short-term debt was $3.7 billion, and its long-term debt was $112.8 billion. Cumulatively, the company had total debt of $116.5 billion. Its total capital was $141.6 billion, and its ratio of total debt to total capital was 82%.
Article continues below advertisement
Relative strength index
For the past 14 days, Verizon's relative strength index (or RSI) was 68 compared to 74, 64, 50, and 68 recorded by Sprint, AT&T, T-Mobile, and Charter Communications, respectively, during the same period. Relative strength index measures the speed at which prices move.
Moving averages
On June 8, Verizon (VZ) stock was trading at $46.19. This price was 0.41% above its 20-day moving average of $46, ~1.7% below its 50-day moving average of $47, and ~3.8% below its 100-day moving average of $48.