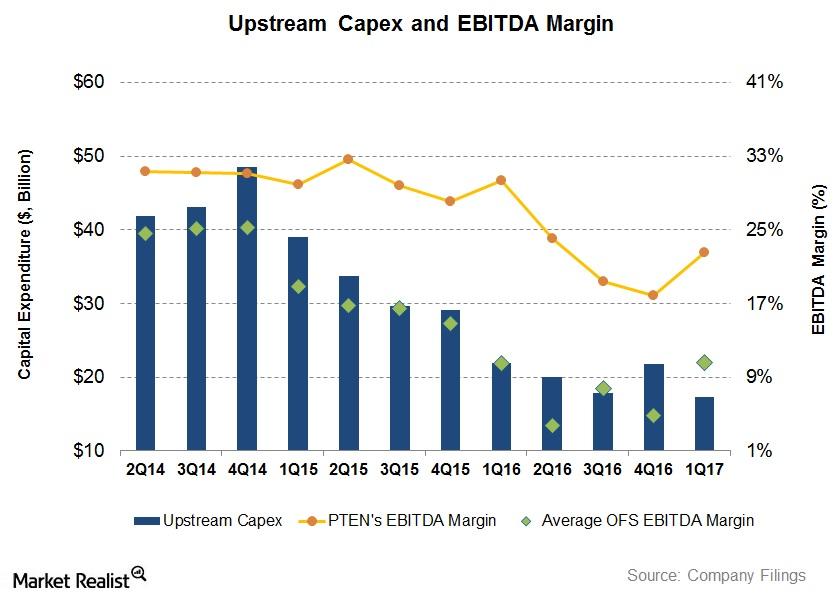 Can Upstream Operators' Capex Affect PTEN's Margin in 2017?
Upstream operators' capex cut
Some of the major US upstream and integrated companies have gradually reduced their capex (capital expenditure) following crude oil's sharp price fall since mid-2014. From 1Q16 to 1Q17, 19 of the most prominent names in this space, in aggregate, lowered their capex by 21.0%. Lower upstream capex led to lower prices for OFS (oilfield services and equipment) companies' services and products. That lowered OFS companies' operating revenues and margins.
Article continues below advertisement
Patterson-UTI Energy's EBITDA margin
As you can see in the above graph, from 1Q16 to 1Q17, PTEN's EBITDA (earnings before interest, tax, depreciation, and amortization) margin (or EBITDA as a percentage of revenues) fell to 22.5% from 30.3%. The average EBITDA margin for 11 of the most prominent names in the OFS industry didn't change much during that period. EBITDA margin is a measure of a company's operating earnings. PTEN makes up 0.01% of the iShares Dow Jones US (IYY). PTEN and IYY both rose ~15.0% in the past year.
EBITDA margin for PTEN's peers
Core Laboratories' (CLB) EBITDA margin was 19.4% in 1Q17. Schlumberger's (SLB) EBITDA was 22.0% that same quarter, while Fairmount Santrol Holdings' (FMSA) EBITDA margin was 12.0%. You can read more on Schlumberger's performance in Market Realist's Schlumberger: Bumpy Roads Might Be in Its Future.
How dependent is Patterson-UTI Energy's business on the US rig count? We'll look at that in the next part of this series.