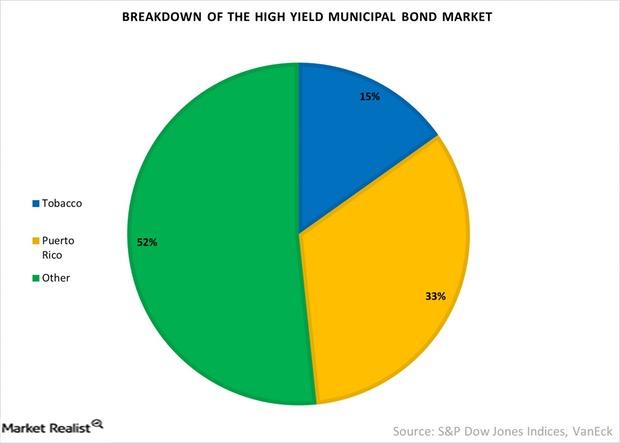 Can Tobacco Bonds Still Be Attractive?
VanEck
Although the bonds were initially issued as investment grade, many have since been downgraded to speculative ratings. Most of the TSSBs were structured under the assumption that cigarette consumption was fairly inelastic and would not react strongly to price increases — a -1.8% average decline rate to 2042 was predicted by IHS. Average declines have proven to be significantly higher than this; in 2009 when the federal tax on cigarettes was increased by 158% to $1.01 per pack, the annual decline reached -9.09%, declining a further -6.36% the following year. This prompted a sell-off in the tobacco bond market, with speculation that some of these bonds would never see a dollar of revenue.
Article continues below advertisement
There are also important technical considerations to take into account when looking at TSSBs. For starters, when compared with the high yield corporate bond market ― which was approximately $1.61 trillion as of April 2016 — the high yield muni market is much smaller, approximately $211 billion. Puerto Rico bonds make up roughly $70 billion in par amount outstanding of that market, with TSSBs accounting for about $32 billion in par amount outstanding. As Puerto Rico general obligation bonds have gone into default, TSSBs have risen to prominence in portfolios as their most liquid assets when it comes to high yield munis. Of the $32 billion TSSB market, $14 billion becomes callable in the coming months. This raises the prospect that the TSSB market could be significantly diminished in size by refinancing, leaving no large sectors within the muni high yield space where sizable amounts of capital can be deployed.
Market Realist
Despite lower cigarette consumption and dwindling MSA payments, tobacco bonds could still be a decent investment.
When there's a default, tobacco bonds behave differently than corporate bonds. For tobacco bonds (HYD), if the trust doesn't have enough money to pay the interest and principal, bonds remain outstanding and settlement payments continue to be paid from the remaining revenues. The payments go on in perpetuity until the bonds are paid off, which means it could get delayed.
However, investors might receive all of the promised cash flow. Also, falling cigarette consumption means that MSA payments will decline. Tobacco bonds offer decent cash flow returns in downside scenarios where smoking declines.