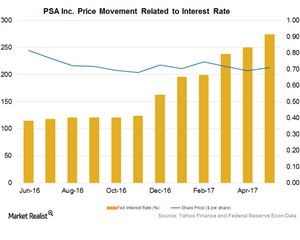 Can Public Storage Survive the Interest Rate Hike?
By Jennifer Mathews

Jun. 26 2017, Updated 9:07 a.m. ET
Interest rate rises
After a long period of record low interest rates, the Federal Reserve has finally embarked on a policy of increasing the interest rate in a phased process. 
For the first time in many months, the central bank hiked the interest rate in December 2016. Since then, it's hiked the rate twice by a quarter point in March 2017 and June 2017. The new target range is 1%–1.25%.
Article continues below advertisement
Market anticipates a pause
In the backdrop of inflation's falling well below the Fed's target of 2%, the market expects the Fed to pause its rate hikes for the rest of 2017. However, Fed officials have hinted at another possible rate hike coming in 2018, similar to that of March 2017. The Federal Open Market Committee (or FOMC) aims to reach a target interest rate of 2% with these phased interest rate hikes.
What the rate hike means for REITs
REITs will likely be significantly affected by rising interest rates. Rising mortgage rates will increase the cost of purchasing investment properties. Investments in mortgage loans could be less attractive as investors deal with the trade-off between chargeable rent and interest to be paid on mortgage loans.
Moreover, since REITs have to pay 90% of their taxable incomes as dividends, higher interest rates make REIT stocks less attractive than risk-free bonds, which yield almost same returns.
However, an interest rate hike isn't all bad for REITs. Usually, the central bank's monetary policy is accompanied by a growing economy. This certainly brings some good news for REITs as well.
In the next article, we'll find out how self-storage and commercial REITs such as Public Storage (PSA), Life Storage (LSI), Macerich Company (MAC), and Extra Space Storage (EXR) can tap the benefits of a rising rate environment.
Public Storage and Extra Space Storage occupy almost 9% of the iShares Cohen & Steers REIT ETF (ICF).