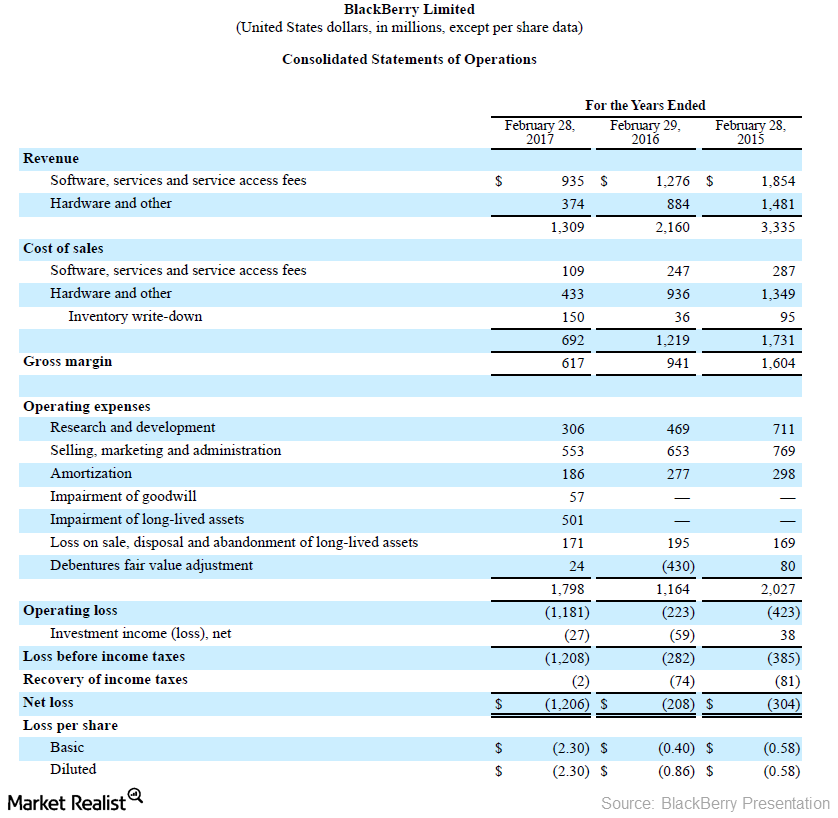 Can BlackBerry Improve Its Profit Margins in Fiscal 2018?
Gross margin 
BlackBerry's (BBRY) gross margin rose to 47% in fiscal 2017 on revenue of $1.3 billion. In fiscal 2016 and fiscal 2015, its gross margins were 43.6% and 48%, respectively. In fiscal 2017, BlackBerry reported an operating loss of $1.18 billion—compared to an operating loss of $223 million and $423 million in fiscal 2016 and fiscal 2015, respectively.
The operating loss was primarily due to an increase in operating expenses and a significant fall in revenue. While BlackBerry's revenue fell almost 40% YoY (year-over-year) in fiscal 2017 to $1.3 billion, its operating expenses rose 54.5% YoY to $1.79 billion.
Article continues below advertisement
In fiscal 2018, analysts expect BlackBerry to post non-GAAP (generally accepted accounting principles) EPS (earnings per share) of $0.02. In fiscal 2019, the company's EPS is expected to improve to $0.08. As we discussed earlier, BlackBerry is shifting towards a software model that will likely improve its profit margins over the next few years.
BlackBerry expects a gross margin of 62% in fiscal 2018
In the previous earnings call, BlackBerry stated that it expects its gross margin to improve to 62% in fiscal 2018. The firm also expects gross margins of 70% in fiscal 2019. BlackBerry aims to reduce costs by improving channel management. It already invested in growth initiatives in the Software and Services segment to drive revenue and improve profit margins.
BlackBerry aims to post non-GAAP net profit and achieve positive free cash flow in fiscal 2018. In the above table, you can see that BlackBerry's EPS fell from -$0.58 in fiscal 2015 to -$0.86 in fiscal 2016 and -$2.3 in fiscal 2017.