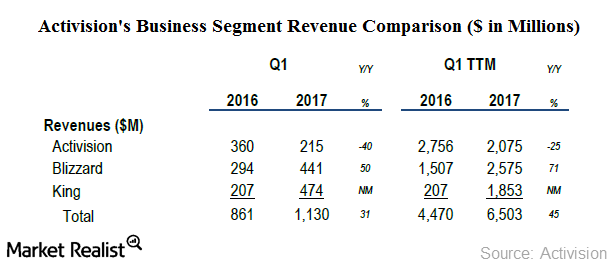 Business Segments That Drove Activision's Revenues in 1Q17
Blizzard's revenues rose 50% YoY in 1Q17
Activision Blizzard (ATVI) has three business reporting segments: Activision, Blizzard, and King. Blizzard's revenues in 1Q17 rose 50% YoY (year-over-year) to $441 million from $294 million in 1Q16.
Blizzard's online player community rose 58% YoY to an all-time high of 41 million players. Overwatch expanded its audience reach with 30 million players since its launch and is Activision's eighth billion-dollar gaming franchise.
Hearthstone's MAU (monthly active users) also rose in 1Q17, and it now has over 70 million registered players since its launch.
Article continues below advertisement
MAUs for Activision and King fell in 1Q17
Activision Blizzard's (ATVI) revenues in 1Q17 fell 40% YoY in 1Q17 to $215 million from $360 million in fiscal 1Q16. Its MAUs also fell YoY to 48 million, driven by softness from Infinite Warfare, which was released in 2016.
Activision is expected to release Call of Duty: WWII on November 3, 2017. Call of Duty's reveal trailer has topped 10 million views on YouTube (GOOG) (GOOGL).
King Digital's MAU fell YoY to 342 million. It had two of the top ten highest-grossing titles for mobile app stores in the United States (SPY) for the 14th consecutive quarter in 1Q17.