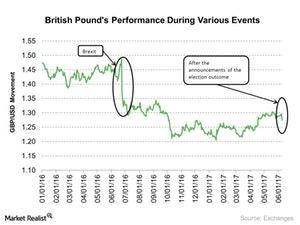 British Pound on Downward Slope since Brexit Vote
By Sarah Sands

Nov. 20 2020, Updated 5:10 p.m. ET
British pound since the Brexit
Since the British Brexit referendum on June 23, 2016, the British pound (FXB) has been nervous. On June 24, 2016, when the announcement was made that the United Kingdom (EWU) had decided to end its membership with the European Union (EZU) (VGK) (IEV), the pound fell nearly 10.0% against the US dollar (UUP) (USDU) (UDN) and hit a 30-year low.
In October 2016, the pound again showed a huge fall as policymakers warned that the UK was headed for a "hard Brexit."." On October 7, 2016, the pound fell more than 6.0% in early trading hours. This month, after the United Kingdom's general election, the pound showed some weakness since the election outcome indicated an unstable political environment.
As the Brexit negotiation process continues in this current environment, the pound is also trading within a narrow range. The UK election outcome indicates that the shortfall in Theresa May's Conservative party's majority could cause a delay in Brexit negotiations.
Article continues below advertisement
Currency is an important indicator for an economy. When a currency shows a stronger movement than other currencies, it indicates that its economy is likely to show a stronger movement. If the currency weakens, it indicates that the economy is losing investor confidence. So nervousness about the pound is showing that investor confidence in the United Kingdom is shaky.
In the next part of this series, we'll see how gold has performed in the year since the Brexit vote.