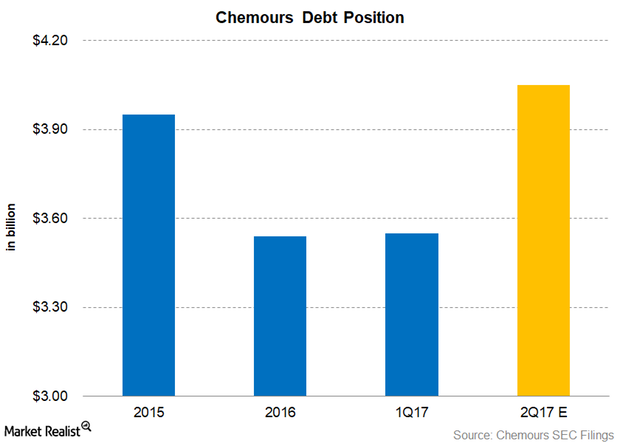 Behind Chemours' Debt Development since Its Spin-Off
Chemours debt
Chemours' (CC) spin-off from DuPont (DD) was completed on July 1, 2015. When it was spun off, Chemours had lots of debt, and many believed that the company was doomed to fail. At the end of 2015, the company had $3.95 billion debt. But by the end of 2016, CC had managed to reduce its debt to less than $3.6 billion and maintained it until the end of 1Q17.
Remember, debt includes long-term debt, short-term borrowings, and the current maturities of long-term debt.
Article continues below advertisement
On May 15, 2017, Chemours raised an additional $500 million in senior debt, carrying a coupon rate of nearly 5.4% per annum with interest paid semi-annually. As a result of this new debt, Chemours total debt is expected to come in at nearly $4.1 billion by the end of 2Q17, which means that CC's debt has grown at a CAGR (compound annual growth rate) of 12.6% since 2015.
Debt-to-equity
The debt-to-equity ratio indicates the proportion of debt that is being used to finance the company's assets. At the end of 1Q17, Chemours debt-to-equity ratio stood at 11.31x, which is considered very high. Peers Tronox (TROX) and Kronos Worldwide (KRO) have debt-to-equity ratios of 2.7x and 0.86x, respectively.
Free cash flow
In its debt policy, Chemours makes clear that the top priority of its free cash flow will be to repay debts and make dividend payments. But since it is a relatively new company, Chemours' free cash flow may not be consistent. In 2016, CC's free cash flow stood at $256 million, but its entire cash flow cannot be used to repay debt, as there are other priorities like cash dividends and expansion.
Though CC expects to generate free cash flow in 2017, it might take a while for CC to generate consistent free cash flow enough to improve its debt-to-equity ratio.
Investors can hold Chemours indirectly by investing in the PowerShares DWA Basic Materials Momentum Portfolio (PYZ), which had 4.9% of its total portfolio in CC on June 22, 2016.
In the next part of this series, we'll analyze Chemours' interest paying ability.