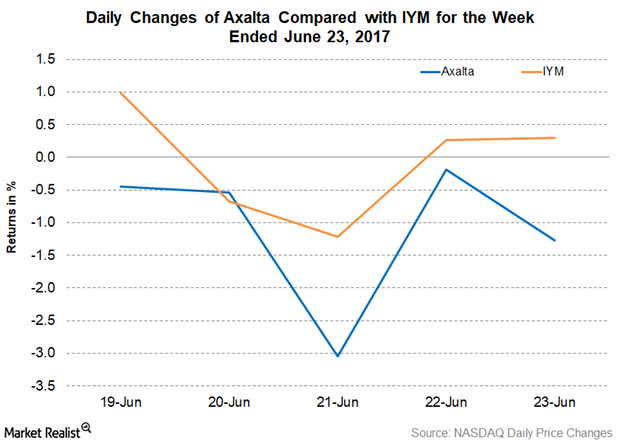 Axalta Launches New Architectural-Grade Colors
Axalta's new launches
Axalta (AXTA) made several new launches last week. On June 20, 2017, AXTA introduced two new architectural-grade colors, Alesta AR400 Axalta Silver and AR400 Bone White Pearl. Both the colors meet the American Architectural Manufacturers Association's standards and have excellent abrasion and corrosion resistant properties.
Craig Dietz, Axalta's product manager, said, "Adding these beautiful coatings to our Alesta AR400 collection demonstrates our commitment to expanding our color offerings while maintaining durability and performance to meet our customers' various needs."
Axalta also launched a new activator called FG-042 catering to the industrial, construction, fabrication, and oil and gas markets. Axalta claims that the color gives extra corrosion protection in one coat and saves time. It remains to be seen how these launches will affect Axalta's revenue.
Article continues below advertisement
Axalta's stock performance
Axalta stock closed at $31.94 on June 23, 2017, a fall of 5.4%. The decline was primarily driven by AXTA's new term loans of $1.6 billion. Further, BOFA Merrill rated Axalta "underperform" from "buy." On the other hand, the iShares US Basic Materials (IYM), which holds 1.2% of its portfolio in Axalta, fell 0.4% for the week and outperformed AXTA. Among AXTA's peers, PPG Industries (PPG) and RPM International (RPM) fell 0.4% and 2.5%, respectively. However, Sherwin-Williams (SHW) rose 1.9% for the week ended June 23, 2017.
Despite AXTA's loss, the stock traded 2.2% above the 100-day moving average price of $31.26, indicating the stock's upward trend. Its RSI (relative strength index) of 42 indicates that the stock is neither overbought nor oversold. An RSI of 70 or above suggests the stock is overbought, and an RSI of below 30 indicates that the stock is oversold.