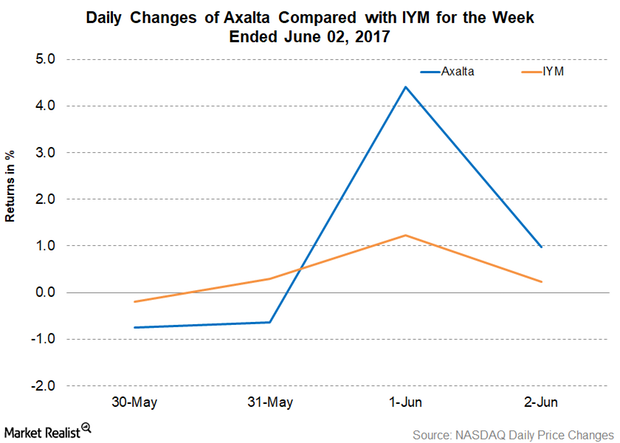 Axalta Completed the Acquisition of Valspar's Business
Axalta completes acquisition
The North American Industrial Wood Coatings business reported net sales of $225 million in 2016. As a result, the impact might be seen in 2Q17 earnings in the form of increased revenue. However, the acquisition could impact Axalta's earnings per share because it might factor in the acquisition cost. The deal is estimated to cost Axalta ~$420 million.
Article continues below advertisement
Axalta's stock performance
On June 2, 2017, Axalta closed at $33.0 and rose 4% for the week. Axalta outperformed its peers Sherwin-Williams, PPG Industries (PPG), and RPM International (RPM). They returned 3.1%, 3.0%, and 3.70%, respectively, during the same period. Axalta stock closed 7.9% above its 100-day moving average of $30.58, which indicates an upward trend.
Analysts expect Axalta's 12-month target price to be $34.06, which implies a potential return of 3.2% compared to its closing price on June 2, 2017. Year-to-date, the stock has returned 21.30%. Axalta's 52-week low is $24.27 and its 52-week high is $33.17.
Axalta's 14-day RSI (relative strength index) of 67 indicates that the stock isn't overbought or oversold. An RSI level of 70 and above indicates that the stock is overbought, while an RSI level of 30 and below indicate that the stock is oversold.
The iShares US Basic Materials (IYM), which holds 1.2% in Axalta as of June 2, 2017, underperformed Axalta. IYM rose 1.60% for the week and closed at $89.68.