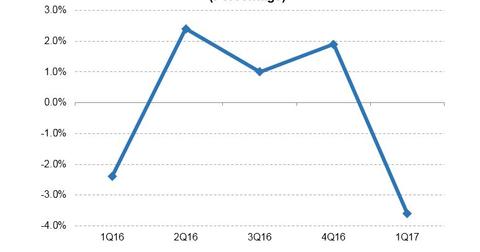 Are Groupon's Investments Panning Out?
By Neha Gupta

Updated
Revenue sinks 3.6%
Groupon (GRPN) has yet to impress in terms of revenue growth, despite its investments in marketing efforts both online and offline. In the past four quarters, the company's top line has expanded by less than 3.0% annually, and 1Q17 was even more disappointing, with revenue falling 3.6% and missing the consensus estimate by $48.3 million. That said, GRPN has missed its consensus top line expectation only once in the past four quarters.
Article continues below advertisement
A shifting business model
As it turns out, Groupon's shifting business model appears to be disrupting its top-line growth. According to the management, one of the company's priorities is to grow gross profit—a goal it is pursuing by shifting to higher-margin operations while reducing exposure to lower-margin categories. Groupon's Local Deals category, for example, yields higher margins than its Goods category.
Although this shift is producing the desired gross profit improvement, it's also causing an unfavorable impact on revenue growth. Groupon's North America gross profit rose 2.0% to $220.9 million in 1Q17, but its North America sales dipped 5.0%, leading to a 3.6% overall revenue decline.
Profit margin improvement to give more freedom
If the shift to the high-margin category is successful, it could more than compensate for the Groupon's top-line hits. Higher margins would lead to more cash flow, which Groupon could invest in more growth and marketing to protect against competitive attacks from deeper-pocket rivals such as Amazon.com (AMZN), eBay (EBAY), Wal-Mart Stores (WMT), and Target (TGT).