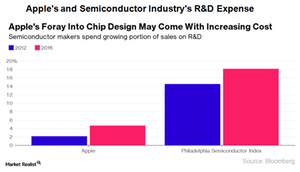 Apple's Strategy behind Its In-House Chip Design
By Puja Tayal

Updated
Is Apple looking to develop a cellular modem? 
Apple (AAPL) is in a lawsuit with its long-time supplier Qualcomm (QCOM) as it looks to save on royalty fees. Some analysts speculate that Apple filed the lawsuit because it's developing its own cellular modem.
Analysts supported this speculation with the recent move of Qualcomm's vice president of engineering, Esin Terzioglu, to Apple. This move was first noted by Counterpoint Research partner Neil Shah on Twitter. According to Raymond James analyst Tavis McCourt, the Terzioglu appointment indicates that Apple plans to develop its own modems.
Article continues below advertisement
The cellular modem is an expensive, power-hungry component in the iPhone. Qualcomm integrates its modems in its Snapdragon processor, which helps it improve efficiency. However, Apple can't integrate a modem into its A-Series processors since it sources the modem from a third party. If it builds a modem in-house, it can integrate it with its in-house A-Series processor and thus improve efficiency.
Apple's strategy to boost in-house chip design
There is further evidence that Apple is looking to design a cellular modem in-house. In 2016, Apple was in talks to acquire Imagination Technologies, its GPU (graphics processing unit) licensor based in the United Kingdom (EWU). Apple hired several employees from Imagination and later dropped the idea of an acquisition. Instead, Apple is now looking to build mobile GPUs in-house.
Bankhaus Lampe analyst Karsten Iltgen noted that power-management chip supplier Dialog Semiconductor is next in line, as Apple has been hiring several engineers from the supplier and building power-management design centers in the United States. Pacific Crest Securities analyst John Vinh expects touchscreen supplier Synaptics to be another target, as Apple has been hiring several of that supplier's engineers.
Article continues below advertisement
Apple increases R&D spending
Cowen analyst Timothy Arcuri stated that semiconductors account for 33.0% of iPhone manufacturing costs. However, Apple's strategy to bring chip designing in-house has increased its R&D (research and development) expense as a percentage of revenue from 2.2% in 2012 to 4.7% in 2016.
Apple's in-house developments
Apple is increasingly focusing on developing more chips in-house. Apple's in-house chip development started with designing A4 chips for the iPhone and iPad in 2010. Since then, it has developed wireless components for AirPods, a fingerprint scanner for its MacBook Pro, and motion sensors for many of its products. It is now developing an AI (artificial intelligence) chip for the iPhone, according to a Bloomberg report.
With this, Apple looks to gain complete control of the hardware for its iPhone. Next, we'll see the opportunities and risks of bringing chip designing in-house.