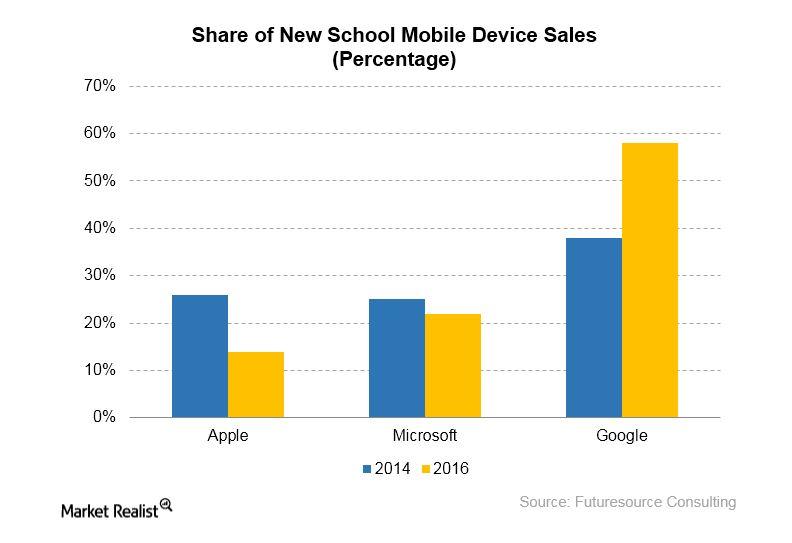 Apple's Classroom Performance Is Poor
Apple falling behind in the school digitization race
The education sector is one of the most promising markets for technology. According to an EdTechXGlobal report, ~2.0% of the nearly $5.0 trillion global education market has been digitized, implying a huge growth opportunity for technology vendors such as Apple (AAPL), Microsoft (MSFT), Amazon (AMZN), and Alphabet's (GOOGL) Google.
The EdTechXGlobal report predicts that by 2020, the global education technology market will be worth $252.0 billion.
Article continues below advertisement
However, if a recent study by Futuresource Consulting is anything to go by, Apple's campaign for educational technology is faltering. As schools are increasingly minding costs, high product prices are hurting Apple's efforts to penetrate the education market, and it's losing market share to Google. Schools are finding that for the price of a single Apple device such as an iPad, they can purchase several mobile devices from Google.
While its consumer electrics peers Google, Microsoft, and Samsung (SSNLF) tend to have broad product offerings to cater to the budget market, Apple's products are usually aimed at the premium market.
Apple's school share falls to 14%
Futuresource Consulting notes that Apple's share of new mobile devices sold to US (SPY) schools in 2016 fell to 14.0% from 26.0% in 2014. Google registered a strong rise as its share of Chrome OS devices expanded to 58.0% in 2016 from 38.0% in 2014.
Microsoft, on the other hand, held its share of the school mobile market nearly steady at 22.0% in 2016, compared to 25.0% in 2014.
School shipments grow to 12.6 million devices
US schools received 12.6 million mobile shipments in 2016, up from 10.7 million in 2015, according to Futuresource. This device count included laptops, tablets, and Smartphones.