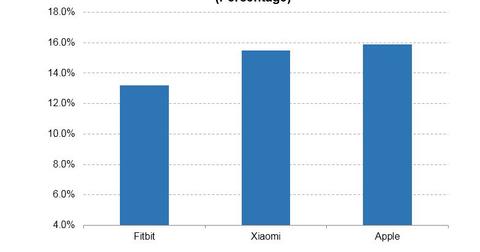 Apple Watch 3 to Launch against a Complicated Backdrop
By Ruchi Gupta

Updated
Apple claims double sales growth
Apple (AAPL) claimed in its fiscal 2Q17[1. fiscal 2Q17 ended April 1, 2017] report that Apple Watch sales increased nearly 100% year-over-year during that quarter. No actual sales figures were released, but that wasn't surprising because Apple has never disclosed Apple Watch sales since the product's launch about two years ago.
The world is now waiting for the third-generation Apple Watch, or simply Apple Watch 3. It is rumored to come with enhanced capabilities such as features to track sleep and blood sugar levels. The next Apple Watch is also expected to feature hardware improvements, such as a more advanced display.
Article continues below advertisement
Apple rules the watch market
According to Strategy Analytics, Apple sold 3.5 million Apple Watches in fiscal 2Q17, making it the top vendor of wearable devices. It trounced Fitbit (FIT), which emerged in third place after shipping 2.9 million devices. The chart above shows the top three wearable tech vendors by market share in 1Q17.
Third-party apps fleeing Apple Watch
However, Apple Watch 3 is expected to launch against a complicated market backdrop. Several third-party apps have disappeared from Apple Watch in the last few weeks. For example, Amazon (AMZN), eBay (EBAY), and Alphabet's (GOOGL) Google have quietly rolled back their Apple Watch apps, despite claims by Apple insiders such as its CEO, Tim Cook, that the watch is a hit.
Did third-party apps simply retreat to return when they have greater capabilities, or did the developers see a lack of returns on their investment in WatchOS? The jury is still out on this question. We'll track this aspect of the Apple Watch story as more information becomes available.