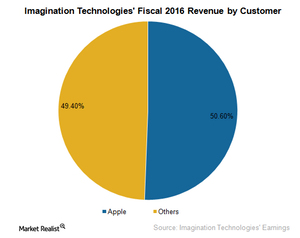 Apple-Imagination Licensing Disagreement Becomes Formal Dispute
By Puja Tayal

Updated
Apple in a licensing dispute with Imagination Technologies
Apple (AAPL) is one of the top customers of semiconductor companies (SMH). The volume of its orders makes Apple a priority customer for many semiconductor suppliers and makes them dependent on the handset maker for cash.
One such supplier is Imagination Technologies, which supplies PowerVR graphics for iPhones. In March 2017, Imagination revealed that Apple will stop using its graphics cards over the next two years. Instead, Apple will use graphics cards developed in-house. That means Imagination Technologies will lose royalties of $0.30 per iOS (iPhone Operating System) device.
This announcement saw Imagination Technologies stock fall 70.0% in one day. Imagination thus filed a formal dispute against Apple for using its IP (intellectual property) without permission. Imagination said it couldn't reach a satisfactory agreement with Apple on licensing arrangements.
Article continues below advertisement
Imagination Technologies' argument
The above dispute is over Imagination's GPU (graphics processing unit) designs that Apple licenses for its iOS devices such as iPod, iPad, and iPhone. Apple is looking to develop GPUs in-house within the next two years. Imagination claims that Apple can't develop its own GPU without using Imagination's design patents.
Impact on Imagination Technologies 
Imagination Technologies earns 50.0% of its revenue from Apple. The loss of this customer would make it difficult for the company to survive. Even if it does survive, its PowerVR would shift away from premium phones to entry-level and mid-level phones.
This is Apple's second licensing dispute after Qualcomm (QCOM). These back-to-back lawsuits and disputes have raised the question of why Apple is raising the issue after so many years. We'll try to answer that question in the next part.