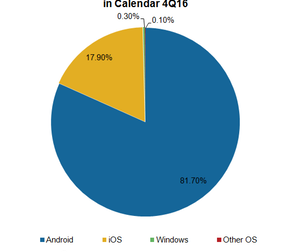 Apple-Android War for Premium Smartphone Market Share Intensifies
By Puja Tayal

Updated
Apple's attempt to convert Android users into iPhone users
Apple (AAPL) is currently preparing for the 10th addition of its popular iPhone. However, all the features being introduced in the iPhone 8 already exist in other Android phones. That's because Google (GOOG) tied up with several handset makers and OEMs (original equipment manufacturers) to develop better phones with a variety of designs.
Google's mobile OS (operating system) Android, which it acquired in 2005, is used in 81.0% of the world's smartphones, whereas Apple's iOS (iPhone Operating System) is used in only 18.0%, according to Gartner. Apple is now looking to convert Android users into iOS users ahead of the iPhone 8 release.
Apple launched a dedicated website called Switch that highlights the benefits of the iPhone and details the easy process of transferring data from an Android phone to an iPhone. Google launched a similar website detailing the process of transferring iPhone data to a Google Pixel.
This war could intensify as a new competitor emerges in the premium smartphone market.
Article continues below advertisement
A new competitor emerges in the premium smartphone market
Former Google executive Andy Rubin began a startup called Essential in 2014. The startup is set to launch its first two devices: an Android smartphone and a home automation system.
The Essential Phone has a 5.71-inch edge-to-edge bezel-less display, similar to the one that is expected to be featured in the iPhone 8. Like Samsung's (SSNLF) Galaxy S8, the Essential Phone is expected to run on Qualcomm's (QCOM) Snapdragon 835 processor.
The Essential Phone is expected to have a titanium body, which is better than the aluminum body of Apple's iPhone 7 Plus and the glass and metal body of the Samsung Galaxy S8 Plus. Some of the similarities between the Essential Phone and the iPhone 7 series are dual rear cameras, no headphone jack, no water or dust resistance support, no home button on the front of the phone, and a fingerprint scanner.
The Essential Phone is priced at $699 and is unlocked, allowing users to run it on the carrier network of their choice. It remains to be seen if the new Essential Android smartphone succeeds in taking share from Apple in the premium smartphone market.
In the meantime, Apple is still the leader and largest customer for the semiconductor industry. Apple is leveraging its strong position to negotiate its desired terms with suppliers. This is creating a tense environment in the smartphone semiconductor space. We'll look at that next.