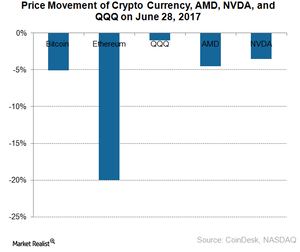 Analyzing the Correlation between AMD, NVDA, and Cryptocurrency
By Puja Tayal

Updated
Cryptocurrency pricing influences AMD's and NVIDIA's stock prices
In the earlier parts of the series, we saw that Advanced Micro Devices (AMD) is in the midst of a series of product launches. NVIDIA (NVDA) has also reported positive news about several new automotive partnerships. Despite the positive news, AMD's and NVIDIA's stock prices fell 4.5% and 3.5%, respectively, on June 28, 2017. The Powershares QQQ ETF (QQQ) also fell 1% on the same day.
Jim Cramer, the Street's co-owner, reported that the two companies' stock prices are being influenced by the price movement of cryptocurrencies like Bitcoin and Ethereum. In the past 12 months, Bitcoin and Ethereum prices have risen 325% and 2,240%, respectively. The currency price boom increased small-scale cryptocurrency mining operations.
Article continues below advertisement
These miners started using AMD and NVIDIA's GPUs to accelerate their operations, which created a shortage of GPUs in the market in May 2017, according to Crypto Coins News. According to a report from RBC Capital Markets, cryptocurrency miners purchased $100 million worth of NVIDIA GPUs in just 11 days. Ethereum miners preferred AMD's GPUs, indicating that AMD's sales are probably higher than NVIDIA's sales.
Jim Cramer discourages correlation between AMD, NVDA, and cryptocurrency trading
Because NVIDIA and AMD supply GPUs for cryptocurrency mining, investors started buying stocks of these companies to play "the near-parabolic trend in this emerging currency environment," stated Jim Cramer. As a result, AMD's and NVIDIA's stock price rose 33% and 15%, respectively, between May 21 and June 21, 2017.
Jim Cramer stated that such a rally isn't sustainable. He advised investors to buy AMD or NVIDIA stock not because of the cryptocurrency mining trends, but for their core business of gaming and artificial intelligence.
AMD and NVDA to launch cryptocurrency mining GPUs
A report by CNBC stated that graphics card makers Asus and Sapphire are launching AMD and NVIDIA GPUs for cryptocurrency mining. ASUS's Mining P106 will be powered by NVIDIA's P106 GPU and feature 6-GB (gigabyte) RAM (random access memory). ASUS's Mining RX 470 will be powered by AMD's RX 470 GPU and feature 4GB RAM.
Miners operate on wafer thin margins and need GPUs only to record cryptocurrency transactions. Thus, they need a GPU that delivers maximum mega hash rates at minimum cost. Manufacturers have reportedly removed display ports and other features from the GPU to make them cheaper. They have also reduced the warranty to 90 days, as these GPUs would run 24 hours, which would reduce their life span.
The new product launches, cryptocurrency influence, and increasing competition have made some analysts bearish on AMD, which we'll discuss in the next part of the series.